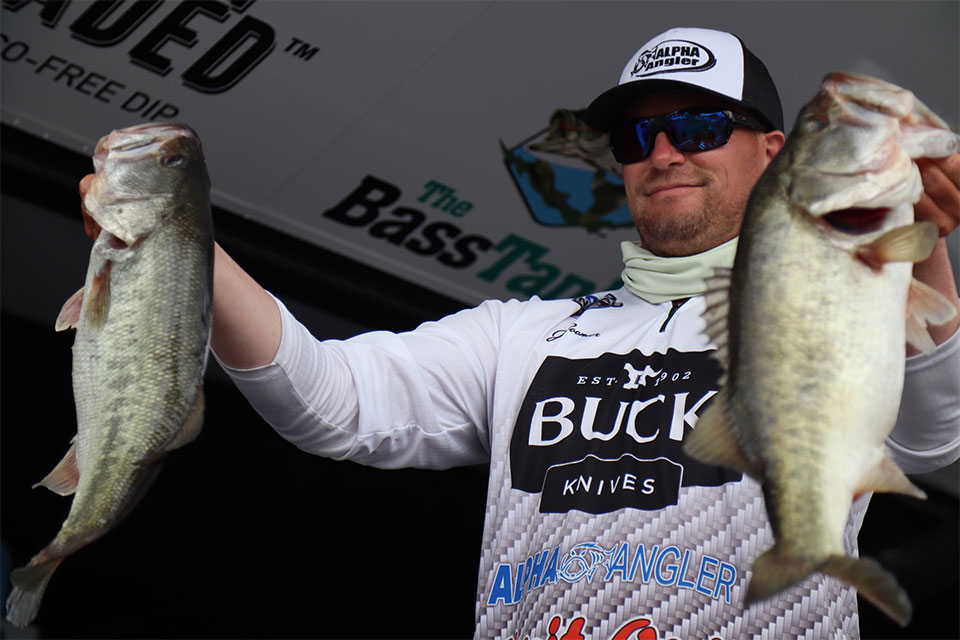 By Justin Brouillard | Photos by Tanner & Travis Lyons and Rob Connors
Day one leader Jake Boomer followed up his 20-pounds, 10-ounces bag with 19-pounds, 13 ounces to remain the tournament leader going into the Showdown Saturday. His two-day total of 40-pounds, 7-ounces gives him a 5-ounce cushion over the second-place angler David Gaston.
On live coverage today, it appeared Boomer was not having the day he was looking for but a late day adjustment got him back on track. 
"I basically had nothing, maybe 12-pounds or something at around 1pm. I was fishing shallow like everyone else and it was tough. I was catching 2-pounders and they were not helping.
The sun finally peaked as the day went on and the Spokane Valley, WA angler knew he had to make a move and get back to catching.
"I went to the closest offshore spot to where I was fishing shallow and I got three bites quick. I figured I would keep my big fish area honest and was able to catch three big ones quick and they all culled big. I saw something when I got out there that clued me in and I made the adjustment and got those key fish."
Boomer knows he needs big ones tomorrow to seal the deal and it all depends on the weather.
"Tomorrow I need to sun to peak and get them set up right. I know I can go and get a limit but I have to go after bigger fish. I'll keep them honest in the morning and do my thing."
In the 2nd spot, David Gaston rode his shallow frog game and three big bites to bring the tournaments biggest bag to the scales. His 8-pound, 6-ounce lunker anchored a 22-pound, 2-ounce bag to jump him 8 spots. Gaston made a major adjustment the in the morning of day one and his gut feeling paid off thus far, giving him a two-day total of 40-pounds, 2-ounces. 
"I have never been to this spot ever. The first morning I put all my rods away because I planned on fishing off shore. I found some fish the last day of practice and thought I could catch 12-pounds a day but I put my rods away, pulled out that frog and never looked back."
Gaston's area in a lake to be revealed tomorrow, is a shallow area with a mix of grasses and has a population of quality bass. After a slow first hour, Gaston went to work on day one and backed it up big time today with several quality bass on the Live Broadcast.
"I went to the same place as yesterday, the same bait, the same everything. I caught two big ones, including the 8-6, and then filled a limit. I lost a 7-pounder today which would have given me a mega bag and a 6-pounder yesterday that would have given me 21-pounds on day one. I left the area alone to save it for tomorrow and it's lining up to be good."
Gaston is referring to the weather, which looks like it might throw the NPFL anglers a curveball on the final day. With a long day tomorrow, Gaston is planning to settle into his area and milk it for all its worth.
"I don't know if I will even get a bite tomorrow but who knows. The weather is going to be a perfect storm, little breeze and some thunderstorms, I think it's going to help my bite. I did catch more little fish today which I was surprised about but if I can get 3 big bites tomorrow, I have a shot. I am going to just go and do what I like to do and see what happens."
John Soukup rallied on day two with 21-pounds, 5-ounces to give him a two-day total of 39-pounds, 5-ounces. Sitting in the 3rd spot, the Lake Eufaula Champion relied on a 6-pound, 5-ounce lunker to anchor his bag of quality bass.
Soukup was seen on Live Coverage talking to Fat Cat Newton and had around 15-pounds mid-day throwing a frog around shallow.
California's Bryant Smith is running a program which includes a shallow reaction bite in the morning and then settling into a flipping bite as the day progresses. Smith brought 18-pounds, 2-ounces to the scales to give him a two-day total of 36-pounds, 14-ounces, which has him in 4th.
"I am fishing that shallow stuff until about 9:30am or when they stop biting and then getting to flipping. I weighed 3 fish from the morning today and had about 14-pounds when I stopped. I caught one flipping and one on a topwater later in the day to catch my bag."
Smith visited Harris Chain after the Wright Patman event but spent his time learning how to navigate. Both days, the Roseville, California angler is fishing areas he found in practice but was pleasantly surprised to find the quality of bass.
"It's surprising me every day and I am just going fishing. I knew I could catch some fish doing the early morning stuff and had no idea how it was going to go (yesterday or today) other than I knew I could go and get some bites. It got a little tougher today cause the sun was not out much. That positioned them for me better yesterday and today they were more spread out."
In 5th place, River Lee stays in the hunt after bringing 16-pounds, 9-ounces to the scales on day two. Lacking a big bite, Lee continued catching quality fish and goes into the final day with a two-day total of 36-pounds, 5-ounces.
"Man, the quality fish was better today but my biggest fish was only 3.5-pounds or so. One 6 or 7-pounder would have given me 20 ish again." 
Sticking to his game plan, Lee caught one good fish first thing fishing around his Kissimmee grass areas and then settled into flipping for the remainder of the day. 
"I really came into this event looking to get a check. I didn't think I was in a spot to win until day one but after what happened at Wright Patman, it's a good feeling to have this kind of event."
River told OTW Cameraman Tanner Lyons on day one that he wanted to be offshore, but had to settle into the shallow game. River shed some more light on what he meant.
"I am really comfortable offshore, I am a better offshore angler, but I don't mind flipping. It's still power fishing so I don't mind it, but I looked offshore cause I thought that is how this event would play out. I projected wrong, but I adjusted and I love it either way."
See the Full Leaderboard, here.
Best of the Rest:
6th Dale Prinkey 36-pounds, 4-ounces
7th Deejay Evans 35-pounds, 5-ounces
8th Jim Jones 33-pounds, 13-ounces
9th Bobby Lanham 33-pounds, 11-ounces
10th Keith Carson 33-pounds, 5-ounces