By Justin Brouillard | Photos by Tanner & Travis Lyons and Rob Connors
With unofficially the biggest bag of the tournament, Lake Pickwick champion Brandon Perkins has 16-pounds on the day including a 4-pound, 2-ounce bass to anchor his bag. Perkins may be making the biggest splash thus far, but he isn't even in the top spot.

Paul Browning spent days one and two fishing a grass edge and flipped his way to a successful event going into the final day. Catching a 3.9-pound largemouth off a tree on Live Coverage, Browning has been saving a stretch of flooded trees for the final day and it appears to be working out so far. 
"I had some trees I have been saving and I sampled them (on day two) for a quick minute and culled once, and lost a good one. I found several trees I found in practice and have not touched them yet. When I pulled in there it looked right. I can't wait to go tomorrow," said Browning after the day two weigh in. Browning has 13-pounds, 5-ounces according to the unofficial Weigh Live Tracker on the day.
The leader after two days, Keith Carson has had a slower final day. Carson noted that clean water has blown into his main area and it appears that the fish, which were holding tight to flooded timber, have now moved off and are "roaming," according to Carson.
Soon after, Carson throwing a Berkley Choppo topwater bait and caught his 3rd fish on the day. According to the Weigh Live Tracker, Carson has three bass for 6-pounds, 6-ounces. With two fish short of a limit on the day, Carson has a lot of room to add to his weight, and make up ground on the leaders.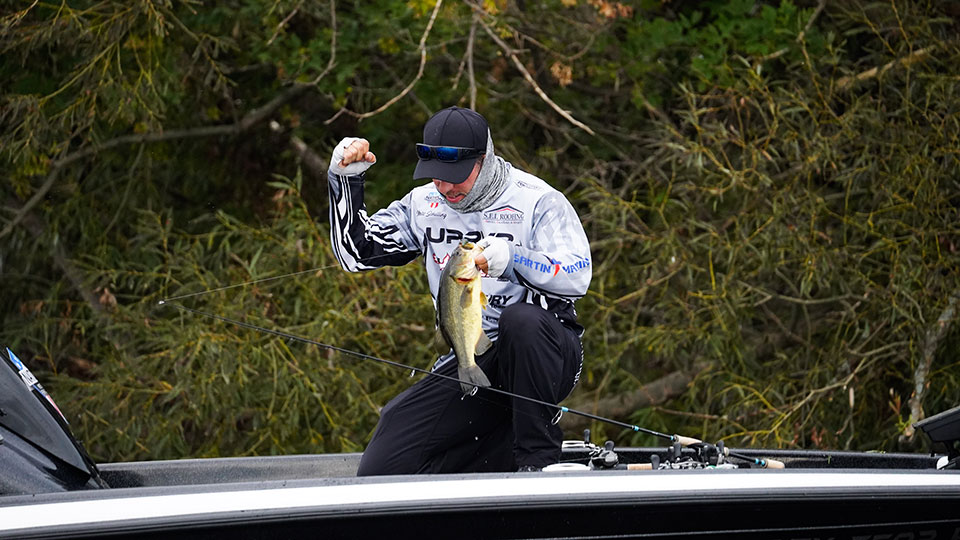 Top 10 Unofficially:  
Paul Browning 13-15 41-8
Brandon Perkins16-041-4
Louis Fernandes 11-12 37-8
Keith Carson 6-6 36-9
Buck Mallory 6-8 34-15
William Fletcher 9-0 34-9
Timmy Reams 8-2 34-9
Marc Schilling 6-9 34-7
Bryant Smith 8-8 33-10
Brian Hatfield 11-6 32-14
Checkout more breaking action LIVE all day long leading up to the Drive-Thru Weigh-in @ 3pm