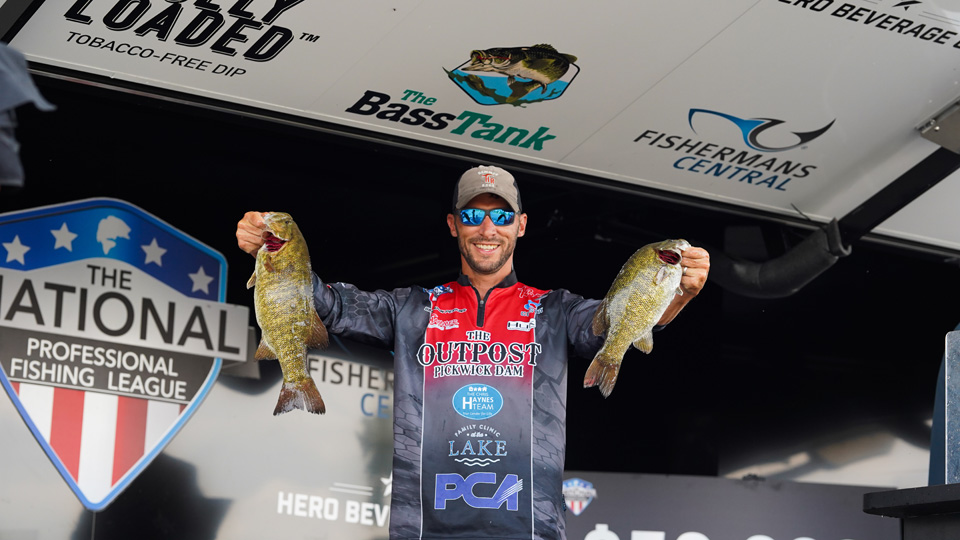 By Justin Brouillard | Photos by Tanner & Travis Lyons and Rob Connors
With only one regular season event remaining of the inaugural NPFL Season, the Progressive Angler of the Year race is as tight as it's been all year, and it's quite literally going to come down to single digits. With several impressive seasons, nobody has been able to run away with the title and each event has shuffled the top guys around. 
After the dust settled at Winnebago, Counce, Tennessee angler Brandon Perkins holds the slim lead over Debary, Florida angler Keith Carson. With Perkins and Carson both winning an event this season, and both having a shot to win at Winnebago, Perkins sits with 1208 points while Carson is 4 back at 1204.
Behind Carson, 8 points back with 1196, John Soukup is the winner of two events in 2021. Taking the first event in Alabama on Eufaula, Soukup also took the win in Florida on the Harris Chain. Soukup holds a slim lead over Tom Bean, Texas angler Marc Schilling. With a consistent season himself, Schilling has found himself fighting for a win on the final day at several events this season. Schilling sits just 3 points behind 4th place angler John Soukup with a respective 1193.
Behind Schilling, California Angler Bryant Smith sits with 1185 points. 8 spots behind Schilling. In the 5th place spot, Smith is 23 points behind leader Brandon Perkins.
Take a look at the full Progressive Angler of the Year Standings, here!

Average Finish
When looking at the AOY race, it is interesting to see where these anglers have finished at each event. The goal of most is to win the event, finish in the top 10, and then of course, get a check. I took a look at the average finish of the top five in Progressive AOY Points and got some interesting results.
Perkins 9.4
Carson 10.2
Soukup 11.8
Schilling 12.4
Smith 14.2
Leader Brandon Perkins has had a solid year cashing a check at every event. With finishes of 9th, 18th, 17th, 1st, and 2nd, his average finish is 9.4.
Keith Carson has had a better average of his top 4, but slipped down at Pickwick with a 29st finish which makes his average slightly less than Perkins. Carson has gone 13th, 1st, 3rd, 29th, and 5th. His average is 10.2.
John Soukup has won two events this season but has finished in the 30's once. With finishes of 1st, 15th, 1st, 31st, and 11th, Soukup's average is 11.8. 
Marc Schilling has also had an outstanding year with only one slip up. Schilling has gone 8th, 9th, 36th, 5th, and 4th. His average is 12.4.
Bryant Smith started with two of his worst finishes and has since been in the top 10 three times straight. Smith has gone 24th, 28th, 4th, 9th, and 6th, for an average of 14.2.
If we drop the worst event of the top 5, things look a little different. 
Carson 5.5
Schilling 6.5
Soukup 7
Perkins 7.25
Smith 10.75
Prior to Winnebago, there were two other anglers within the top 5 who struggled a bit and dropped out of the top 5 in AOY points. Both David Gaston and Nick Prvonozac were on a tear and were first and second in the points going into Wisconsin's Lake Winnebago.
I looked at the average finish and the average of the best four finished from both of those anglers to compare to the current leaders.
David Gaston began the year with a 2nd, 11th, 6th, 2nd, and had an atypical 85th finish on Winnebago.
Nick Prvonozac also started strong with finishes of 4th, 2nd, 5th, and 30th, before finishing 55th in Wisconsin.
With Gaston having an average of 21.2 and Prvonozac with 19.2, both have cashed 4 checks before having a hard time up north. Gaston's best 4 events averaged out to 5.25 which is better than any of the current leaders. Prvonozac averages out at 10.25 which puts in him 5th place with dropping his worst event.
Dropping an event is a hypothetical scenario to compare how the anglers have done on average and has nothing to do with the overall points standings. Being consistent the entire year is difficult and the winner of this Progressive AOY Title will have done just that. During the many phone interviews this season, the common goal was finishing within the check range. If you can average within check range, the points will take care of themselves and work itself out. For the top 5 leaders to have a top 10 average says something. 

The Championship Cut Line
The other race going on and coming to a close after Grand Lake on September 30th to October 2nd is the 25 anglers atop the list qualifies for the no entry fee Championship. As we sit now, both Michael Yoder and Mitchell Webb are tied for the 25th spot with 1075 points with Yoder getting the nod with the tiebreaker. One point behind them, with 1074 points, Eddie Carper. 
Even more interesting, sitting within the cut line after Winnebago, there are several anglers less than 10 points ahead of the 25th spot. In 19th, Dan Blackert with 1084. Behind Blackert, three anglers are tied with 1083 – Brian Hatfield, Sheldon Collings, and William Fletcher. Close behind, with 1081 points, James Biggs and with 1079, Paul Browning.
It's going to be an interesting event in Grove, Oklahoma for the final event of the season at Grand Lake. The lake is supposedly going to be tough on anglers and a lot of moves will be made in both directions. Stay Tuned for all the action and be sure to subscribe, like and follow our Social Network for more.