By Justin Brouillard | Photos by Tanner & Travis Lyons and Ben Kennedy
The anglers launched on day one of the final event of the inaugural NPFL season on Grand Lake unsure what to expect. The conditions were warm with sunny clear skies during the practice period and anglers were skeptical of the conditions come tournament morning. 
The current leader from Dallas, Georgia was one of those anglers who had no idea how his morning would go. William Fletcher was asked on media day Wednesday sitting in the 22nd spot for Progressive AOY standings if the championship is on his mind and if it would affect how he fished this week on Grand.
"I don't have the answer for this right now I don't think. I have no idea what is in my areas because I would basically leave after I got a bite. Hopefully I got more than I think, but I really don't know. If I win, I win, I don't really have to let the AOY race affect how I fish, but it all depends on my morning tomorrow."
It seems like at least for now, Fletcher's areas may have been better than he knew. With an early limit for over 13-pounds, including a 4-pounder lunker, Fletcher has the rest of the day to decide how he goes about the rest of his event.
Local angler Sheldon Collings doesn't yet have a limit, but he currently sits in second place on the Weigh Live Tracker with four bass for over 13-pounds, including a bass over 5-pounds. Collings has a long history on Grand Lake living on the lake for over a decade and is expected to have a good tournament. 
Keith Carson seems to be around the top of the leaderboard at every event, and so far, this morning he has to be happy to get off to a good start. With unofficially having a limit for around 11-pounds, Carson is on live working reaction style baits to catch his fish and bounced a 3-pound bass off the side of his Crestliner as well – a fish that would have certainly helped the cause.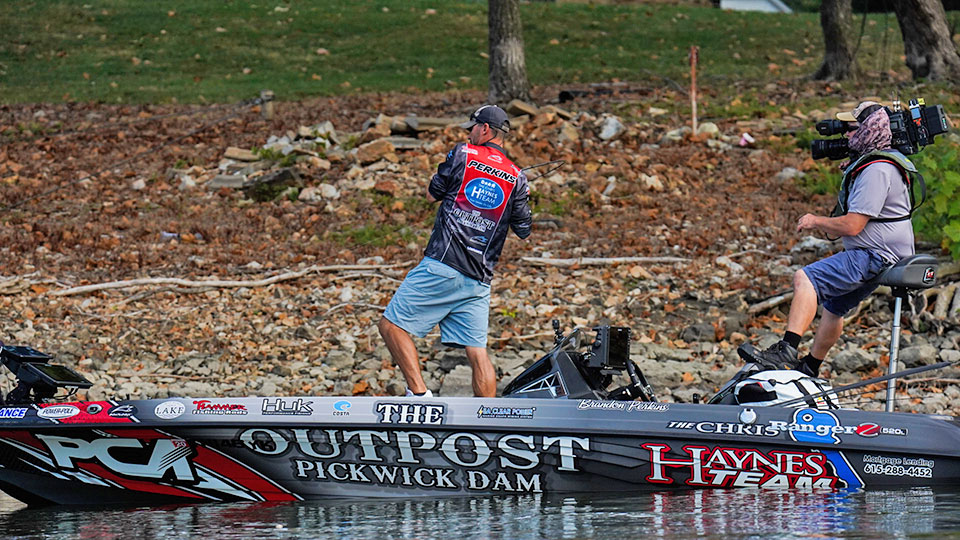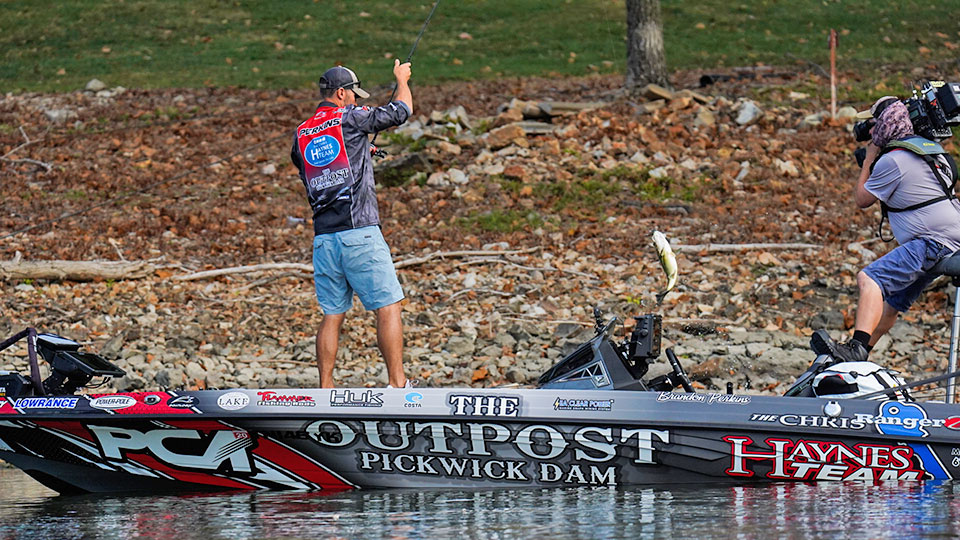 As seen on the Live Broadcast, AOY Leader Brandon Perkins is off to a good start. Recently filling a limit, Perkins is sitting in 5th place with over 9-pounds and is making a case to remain the leader when day one comes to an end. Perkins is approaching this event as he has every single event so far this season – to try and win.
"I am not playing it safe; I am fishing for AOY but I would like to win. I had a good practice and I think it's possible. I am worried about the weather a little with it being different, but I am excited about it.
Ban Blackert has one of three limits so far for around 9-pounds, 12-ounces and begins his day in fourth place according to the Weigh Live Tracker.
Rest of the Top 10
Eddie Carper 8-4
James Biggs 8-3
Dale Prinkey 8-2
Bryant Smith 8-1
John Polasini 8-0