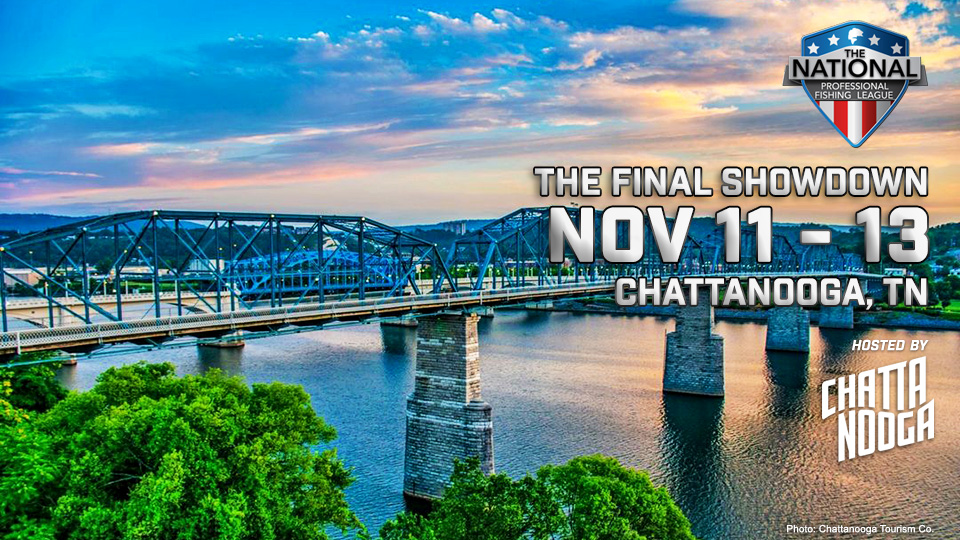 CHATTANOOGA, TN. – The NPFL Championship field is set and the anglers are headed to Chattanooga, Tennessee for a fall shootout on non-other than Nickajack Lake. The second stop in Tennessee for the season, the top 25 anglers in Progressive Angler of the Year points qualified to fish the no-entry fee championship on the TVA Lake. 
About the Lake
Passing through downtown Chattanooga, Nickajack Lake is a roughly 16 square mile reservoir stretching from the Nickajack Dam on the Southern end to the Chickamauga Dam on the South. The 76-mile-long river is home to largemouth bass, smallmouth bass, spotted bass, channel catfish, flathead catfish, black crappie, white crappie, walleye, bluegill, redear sunfish and more. Anglers can expect to find several productive patterns with bass being caught all over the lake. For anglers who prefer to fish offshore, the ledges and deeper grass edges will be productive. For shallow water anglers, there are fish to be caught on the bank and the topwater bite is in full swing – it is setting up to be an eventful final event of 2021.
The AOY Race
The Progressive AOY Race ended at Grand Lake with Keith Carson taking the inaugural gold Progressive AOY Crown. With several lead changes throughout the latter half of the season, it all came down to the final day on Grand Lake to unfold.
The top 25 Progressive AOY Standings – Championship Roster
1. Keith Carson 1439
2. Brandon Perkins 1438
3. Bryant Smith 1433
4. John Soukup 1415
5. Taylor Watkins 1394
6. Joel Willert 1387
7. Timmy Reams 1387
8. David Gaston 1376
9. Derrick Blake 1375
10. Greg Mansfield 1359
11. Marc Schilling 1357
12. Pug Clements 1354
13. Jesse Millsaps 1351
14. Nick Prvonozac 1349
15. Josh Ray 1348
16. Jake Boomer 1337
17. Sheldon Collings 1332
18. James Biggs 1328
19. Paul Browning 1322
20. William Fletcher 1320
21. Louis Fernandes 1315
22. Michael Yoder 1315
23. Eddie Carper 1313
24. Dan Blackert 1305
25. Robby Frazier 1301
Read more about the Final PROGRESSIVE AOY Race, here!


THE FINAL SHOWDOWN DETAILS