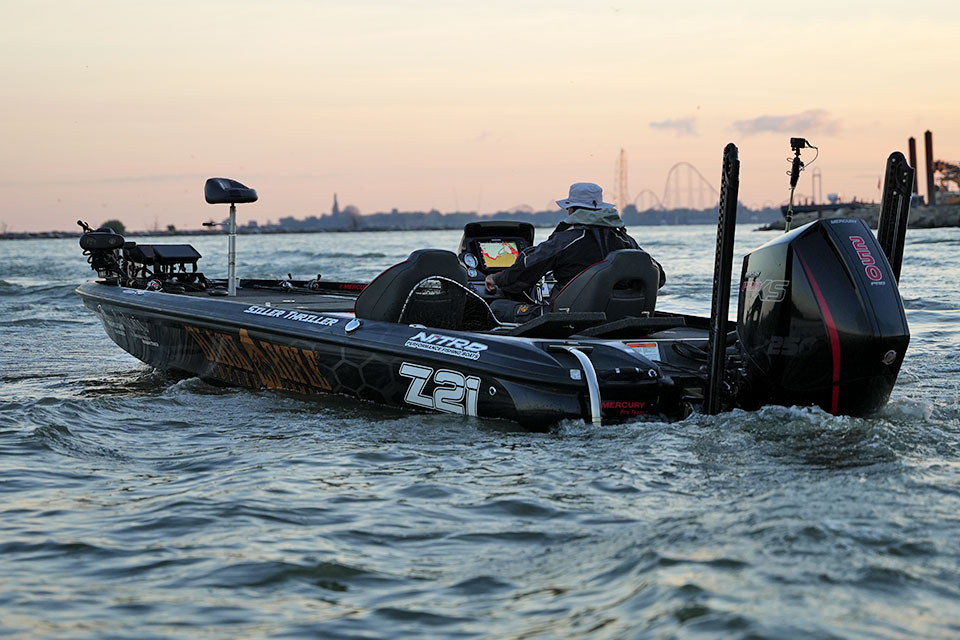 Story by Justin Brouillard | Photos by Tanner & Travis Lyons
NOTE: On his way back to check in early, Siller started hearing noises coming from his engine and realized he needed some help to get his big bag to weigh in on time.
With a 6-pound, 3-ounce smallmouth to anchor his bag, Scott Siller weighed in 26-pounds, 1-ounce of Lake Erie smallmouth bass to take the day one NPFL lead at Sandusky Bay presented by Fishermans Central.
Catching a limit quick for around 17-pounds, it wasn't until Siller made a move to his second spot when he landed on a smallmouth pot of gold, culling his entire limit in route to a four-pound lead over 2nd place. 
"I was idling to my second spot, not too far away and went over another little pile. I turned around and decided to make a cast," said Siller. "I ended up catching one of my five pounders there and got over to my other main area and quickly caught another big one. I circled those three spots all day and caught that six pounder and a couple other five pounders."
But it wasn't without some drama. On his way back to check in early, Siller started hearing noises coming from his engine and realized he needed some help to get his big bag to weigh in on time.
"I called my travel partner Dustin Williamson, and he graciously took two hours of his own fishing time to get my fish in early. He had a long day today and cut it short to help me out and I can't thank him enough. It took me another hour plus to idle back."
Making a decent run, Siller has the luxury of no pressure in his areas and left his fish alone early in the day. He targeted isolated structure, and all three areas were a little different.
"If I can get my boat fixed tonight and go tomorrow, I am pretty confident. I have a long day and I didn't see a boat all day. The fish are hard to see but I know where they are sitting," Siller added.
Brandon Perkins
Sitting in 2nd place, Brandon Perkins made a long run out in Erie to catch his 22-pound, 1-ounce bag of smallmouth. After arriving to find two NPFL boats on his first spot, and a travel partner on his second, it was the third spot that got his day going.
"I caught two smaller fish on that third area and knew I had to make a move," said Perkins. I caught one good fish on a spot close by in practice and pulled in there today and had a 18 or 19-pound bag really fast."
Before making the trek back to Sandusky, Perkins made a stop that changed his event.
"I decided to stop back to one of those other areas and culled twice and that culled me up to my weight. Those two fish were key, and I didn't catch a really big fish today either and lose two other four-pounders."
As he prepared to run back, battery issues threw a wrench in his plans.
"Either my engine was messed up or my batteries because I couldn't get it started and knew I was in trouble. I called my buddy Mike Corbishley to take my fish in and thankfully left my keys at my truck back at the ramp. My buddy Jason Foster grabbed it and came an hour and a half to get me after I trolled over five miles to shore."
Dan Blackert
Finishing the day in 3rd place, Ohio angler Dan Blackert caught a five fish limit of smallmouth for 22-pounds. Running out North of the islands, a quick five-pound fish got his day started before spot jumping his way back towards Sandusky.
"I got that big one early and really didn't have a limit until around 1 pm. Once the wind shifted, I caught a good fish and knew where to go," said Blackert. "I culled a few more times and left a bunch of big ones out there. They are smallmouth so who knows if they will be there."
Danny Weems 
With a five bass limit weighing in at 21-pounds, 9-ounces, Danny Weems takes the 4th place spot at Sandusky. Starting his day with a quick limit, Weems made a 60-mile round-trip run hitting various isolated spots on the way back to Sandusky.
"I caught about 15 fish all day and was fishing around with a dropshot," Weems said. "I was sharing some water this morning but culled once with a four-pounder later in the day on another area. The bigger fish didn't really start biting for me until after 10 am this morning."
Stu Martel
With a 5-pound, 10-ounce smallmouth to anchor his day one bag, Stu Martel sits in the 5th spot with a limit of smallmouth weighing 21-pounds, 5-ounces. Staying fairly close to the ramp compared to some, Martel was done fishing by 11:30 am. But his weight didn't come easy.
Said Martel, "I lost a few other four-pound fish and it was really a grind all day. I don't know what it's going to look like tomorrow with changing conditions but it could be tougher on us, we'll see. I am making a few bait changes as the day goes on and not fishing the same thing."
Blake Felix
Finishing the day in the 6th spot, Blake Felix made more than a two-hour run to catch his day one bag of 21-pounds, 4-ounces. 
After debating turning around several times, Felix committed to his run and was rewarded with a 19-pound limit in the first 45-mintes of fishing. A couple minutes later he made a crucial cull with a four-pounder, and he made his way back to check in.
"The bass are in groups of four or five fish and I can catch one, but they scatter. I had to move around and let them set up before coming back. I have never fished for smallmouth and I never had to deal with this rough water. I ran 25 MPH the whole way today," concluded Felix.
The rest of the best:
7th Keith Carson 20-13
8th Michael Yoder 20-10
9th Sheldon Collings 20-8
10th Louis Fernandes 20-0