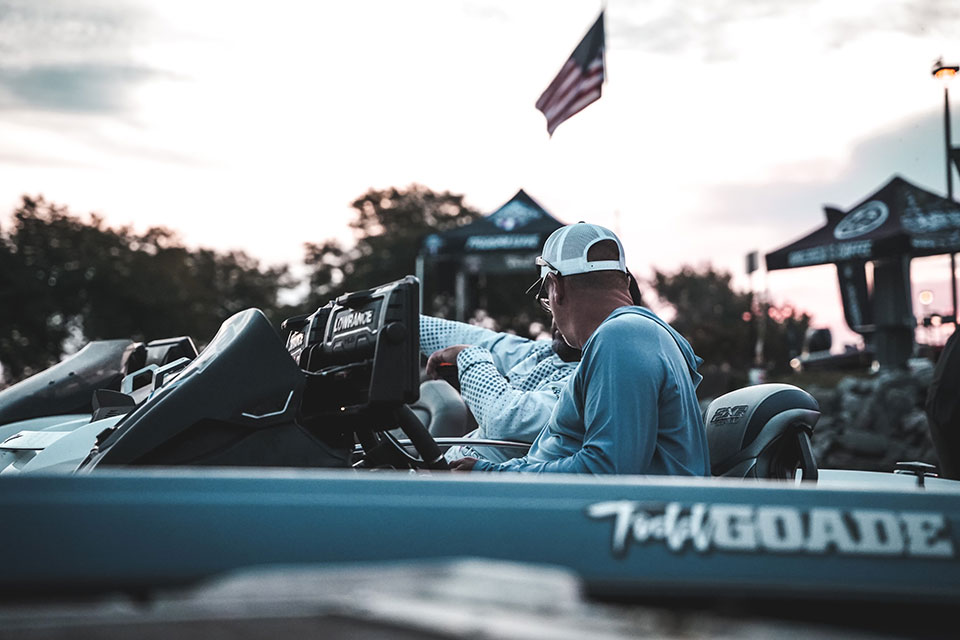 Story by Justin Brouillard | Photos by Tanner & Travis Lyons
Sandusky, OH – The final day begins at Sandusky Bay presented by Fishermans Central as anglers head out on Lake Erie to compete for the $50,000 check and the NPFL Shield. The Progressive Angler of the Year is shaping up and some moves have been made. Partly cloudy skies and a high of 84 degrees will set the stage for 5 to 10 mph winds as some anglers make over a two-hour run towards Detroit and several top anglers stopping by the islands famous for producing big bags of smallmouth.
Scott Siller had a considerably slower day two but still added almost 21-pounds to his over 26-pounds on day one giving him a 5-pound, 5-ounce lead over Saginaw Bay champion Gary Adkins. Siller knows with five or six bites he will be where he needs to be and have done his job. While Adkins is a Great Lakes ace, a deficit of that magnitude is tough to make up, even on Erie. 
Behind them, Blake Felix has fished for smallmouth only a few times and is dedicated to making a five hour round trip run to an area he found late on the final day of practice. Felix is only one of three anglers to average over 20-pounds a day thus far in the tournament.
Taylor Watkins rocketed to the 4th place spot after a 22-pound, 13-ounce bag that left him thinking what might have been. Watkins weighed in four fish on day one for almost 18-pounds but had a dead fish penalty after losing his limit fish a few times. 
Rounding out the top five going into the final morning is Taylor Umland who is making a shorter run than most and is picking apart a few key areas with a dropshot and swimbait to catch his fish. He added a 22-pound bag on day two to move up to 5th going into Showdown Saturday.
The AOY
Despite a terrible sequence of events on day one, Progressive AOY leader Timmy Reams rebounded on day two and moved into the check range in 36th. Reams has accomplished his goal of "hanging around" with one more day to make up some ground. He may not be leading currently as Gary Adkins is having a phenomenal event, but going into Florida he could be sitting right where he wanted to be. Reams has the opportunity to make things interesting today with another big limit. Another mover in this event is Taylor Watkins who started the event 53 points behind Reams but sits in the top five with one more day. 
Top 10 Anglers:
Scott Siller 47-0
Gary Adkins 41-11
Blake Felix 40-4
Taylor Warkins 39-12
Taylor Umland 39-11
Keith Carson 39-11
Dan Blackert 39-8
Chad Randles 39-1
Sheldon Collings 38-14
Trent Palmer 38-4
How to Watch
Tune in to thenationalprofessionalfishingleague.com to watch the final day action from Sandusky Bay, with Live Coverage beginning this morning. 
Follow along and watch the daily LIVE Leaderboard, LIVE Blog, and on the water photo galleries and blogs of the anglers on Sandusky Bay!
Under the Go Live Tab, choose LIVE Broadcast with links to the real-time LIVE Leaderboard with estimated weights entered by the anglers.
Check out the LIVE Weigh-ins, here!
See the Results from Day Two, here!