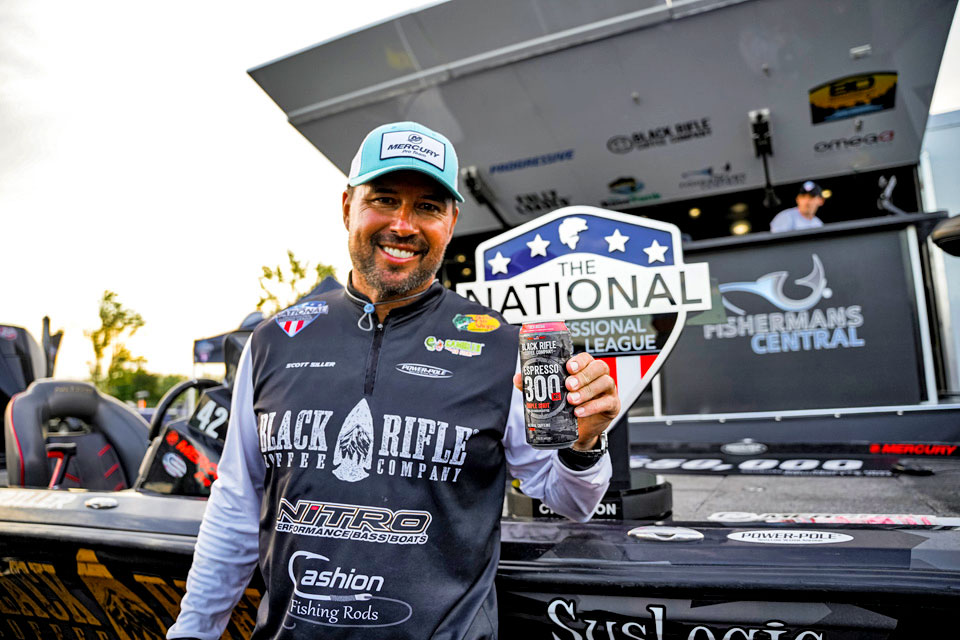 WILKESVILLE, OH (September 16, 2022) — The National Professional Fishing League (NPFL) announces its partnership with Black Rifle Coffee for the 2022 season and offers fishing fans a 25% off membership discount to Black Rifle Coffee Club. 
"Strategically, the addition of Black Rifle Coffee Company to our list of brand partners is a big deal for our company. This partnership goes well beyond boardrooms and spreadsheets, it's rooted in the shared values of our two veteran founded companies – I feel a special connection to these guys. I've started my day and evenings with Black Rifle Coffee overseas for many years and I will continue to do so for years to come. We are, and always will be, 'Black Rifle People'," says Brad Fuller, President, TNPFL.
Black Rifle Coffee credits their success to outstanding work ethic and discipline of employees, with a long-term goal to hire 10,000 veterans. In the process of growing the company, Black Rifle is dedicated to helping service-members make the transition from the military to entrepreneurship by providing assistance to those returning to civilian life aspiring to start their own businesses. 
As a veteran owned company, Black Rifle stands for more than just high-end coffee – the mission is to serve coffee and culture to people who love America. As a supporter of the outdoor industry as a whole, Black Rifle is excited to partner with the National Professional Fishing League for the 2022 season.
Here is your chance to help the cause and enjoy Black Rifle Coffee. Use Code BLASTOFF25 at checkout to save 25% off on your Black Rifle Coffee Subscription. Choose between ground coffee, whole bean or Black Rifle Rounds, choose your roast, pick how many bags, choose the delivery frequency and enjoy high-quality coffee while supporting veterans. 
Learn more about Black Rifle Coffee, here.
About the National Professional Fishing League
The NPFL was designed to bring simplicity back to professional bass fishing. One lake, 120 anglers, and three days of fishing with the heaviest combined three-day weight winning. The full field will compete all three days with one in three anglers getting paid at each event. The goal of the NPFL is to put the anglers first and build a trail that gets back to what the founders of bass fishing intended it to be.