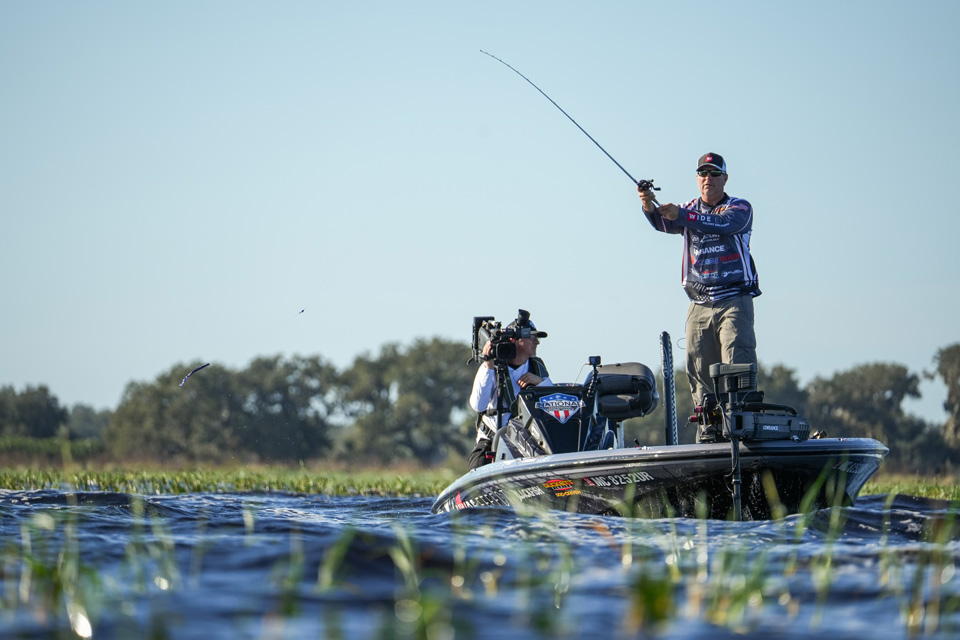 Story by Justin Brouillard | Photos by Tanner & Travis Lyons
Mid way through day one, the common theme is a tougher day in general for all the anglers. As expected, some guys who had a tougher day one have rebounded on day two, jumping up the leaderboard and making a climb back into the thick of things. As seen on LIVE BROADCAST, the top anglers have been able to catch fish, but the size is lacking from the first day. For others, a few big fish have flipped the event around with big bites that lacked on day one.
Ron Johnson and Taylor Watkins both have an unofficial limit with time left to upgrade. Both anglers are seeing fish on forward facing sonar but are unable to catch the quality they did yesterday. The most consistent anglers seem to be Bryant Smith and Michael Catt, who both have above average limits for the day, and Catt is putting on a show on Live.
There are 27 unofficial limits on the Weigh Live Tracker, a little behind day one, with several folks not having entered their catches in today. Big bass of the day are coming from Josh Ray with a 6-0 and Dustin Smith with a 7-0.
Progressive AOY leader Gary Adkins is inside the top ten at the mid-day point and has regained more of his lead over Taylor Watkins after day one. Watkins is in the top five currently but needs to make a few culls to stay in the event. Anglers are dealing with a stiff wind which has changed several of the key areas and they are having to move around and relocate their bass.
The unofficial top 10 looks like this:
Ron Johnson 37-9
Bryant Smith 33-7
Taylor Watkins 33-5
Josh Ray 33-2
Dustin Smith 32-0
Keith Carson 30-1
Scott Siller 29-2
Michael Yoder 28-15
Dustin Williamson 28-11
Jeff Fitts 28-10