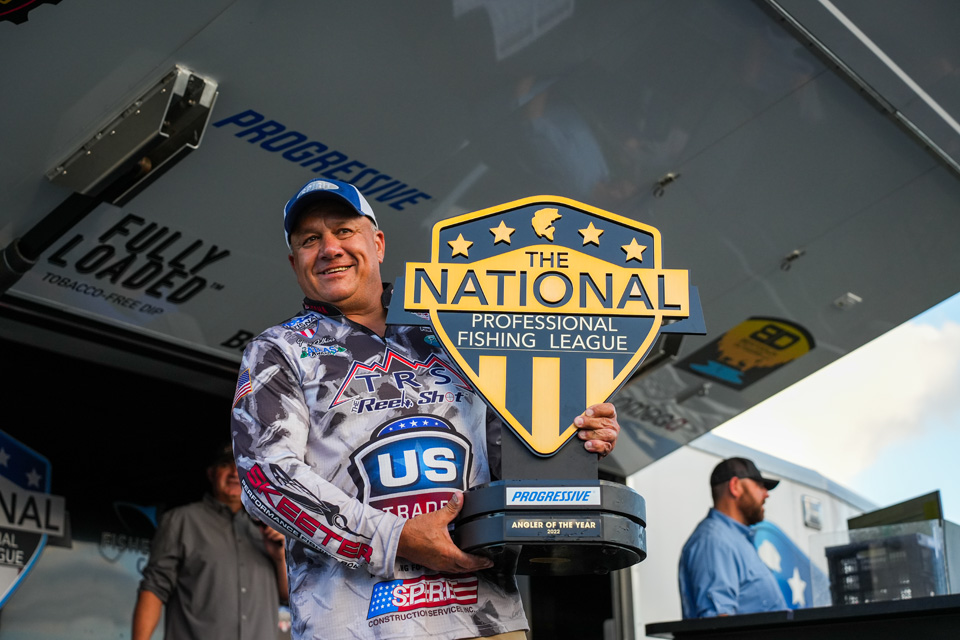 Story by Justin Brouillard | Photos by Tanner & Travis Lyons
As the 2022 NPFL season comes to close, anglers are looking forward to next season and reflecting on their performance throughout the year, both highs and lows. The Progressive Angler of the Year (AOY) race was up for grabs with one final event in Florida to go and the leader Gary Adkins slammed the door shut.
"This season was all about embracing the challenge," said Adkins. "I have fished the Bassmaster Opens and did some traveling with my job, so I have definitely fished around the country, but never at the professional level – I was really looking to see how I would stack up. As my confidence built, I fished stronger and stronger."
Adkins began the season with a 15th place finish on Lake Cumberland earning a cool $10,000 to begin the year. From there, a place where Adkins is familiar with from the past, he finished up 24th at Lake Hartwell and took home $9,000. Stop three took the anglers to Tennessee Watts Bar where Adkins finished in 21st place taking home another $9,000 check.  Then began the northern swing, where Adkins feels most at home and was in a good position to make a run.
"After the Watts Bar event, I think I was in 7th place and as the schedule was taking us North. I knew if I had two good events up where I am comfortable, chasing smallmouth, I might have a shot to win the AOY in Florida."
Adkins did his job in the North earning a 1st and 2nd place finish in consecutive events to take over the lead. Winning at Saginaw Bay was no surprise, but Adkins was more confident at Sandusky where he had fished several times before.
"I know Sandusky well and I had never been to Saginaw Bay before. Going in, I stuck to my strengths and it worked out."
Adkins edged Trent Palmer by 4-ounces to take his first NPFL Victory by focusing on smallmouth bass at the mouth of the bay. For his efforts, Adkins earned a cool $50,000 and moved just behind Timmy Reams in the AOY race going into Sandusky.
Adkins struggled slightly on day one catching 19-pounds event and found himself needing two big days to give himself a chance. Adkins stacked two heavy bags together to come back and finish just 1-5 back from winner Scott Siller. His efforts were enough to earn him a nice check and move him into the lead going to Florida.
Timmy Reams began the event just 14 points behind Adkins after a consistent season himself. Reams lead the race for several events and finished 27th at Sandusky to give way to Adkins, going into Florida. Taylor Watkins began the event on Kissimmee 43 points behind and needed to win the event and have both Adkins and Reams struggle.
Reams finished the event in 53rd place and dropped to 4th in AOY points earning him a solid $8,000 check for his great season. Watkins was able to take the win on the Kissimmee Chain putting all the pressure on Adkins to finish higher than 43rd place to seal the victory.
"After day two of practice on Kissimmee, I found the fish I ended up catching during the tournament and knew then I had a legit shot to win the AOY," added Adkins. I didn't think I found enough to win the event, but 15 to 18-pounds a day was possible."
He caught 42-pounds, 7-ounces for the event and finished in 21st place slamming the AOY race shut. With eventual winner Watkins in the top two for the entire event, the pressure was on for Adkins to consistently catch a solid bag with tight weights throughout. One bad day and the door would have been open.
Adkins took home over $100,000 for his efforts in 2022 while winning a regular season event as well as the coveted golden crown for winning the 2022 Progressive Angler of the Year Title.
"Other than looking beyond to next year, I am excited for the chance to go back-to-back on angler of the year in 2023. I am really pleased and excited to be fishing with the NPFL and can't wait to get going at Amistad in February," concluded Adkins.
Top 10 2022 AOY Standings:
Gary Adkins | 1372 — $107,000
Taylor Watkins  | 1349 — $141,700
John Soukup  | 1335 — $55,000
Timmy Reams | 1326 — $52,500
Bryant Smith | 1325 — $52,000
Matt Massey | 1297 — $55,200
Sheldon Collings | 1291 — $52,500
Jeff Dobson | 1274 — $52,000
Taylor Umland | 1270 — $45,000
Logan Milsaps | 1270 — $39,000