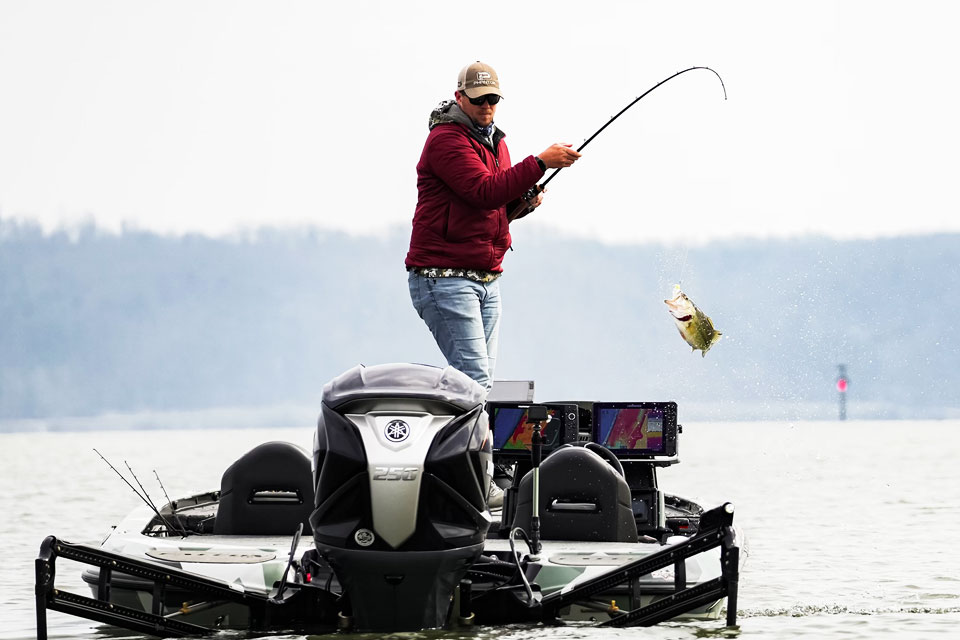 Story by Justin Brouillard | Photos by Tanner & Travis Lyons
The weather for day two has drastically changed the success thus far according to the Weigh Live Tracker. The leaders have been putting fish in the box as expected but the quality has not been there as seen on the first day. Brandon Perkins started the day on top and so far, has four bass for almost 11-pounds. His goal is to hit that 20-pound mark on the day to remain at the top but the weather is affecting his ability to move around and cover water effectively.
Similarly, Michael Brewer is having a slower day as well, with two bass reported for 4-pounds. He was seen on live coverage having lost a couple bass and more bites on the day from white bass and drum. Within a short distance from the takeoff, he has a lot of time left to make something happen.
Notable day two moves:
Todd Goad began the day with only 7-pounds, 6-ounces from day one, but today is reporting over 17-pounds and a spot in the top 10, unofficially.
Sheldon Collings had some unfortunate luck on day one causing him to dumb his bag while not making it back to weigh in. On day two, however, he is making a charge with over 14-pounds on the day.
The top five looks like this at the midway point:
Brandon Perkins 35-5
Louis Fernandes 29-4
Hayden Hammond 26-13
Tim Cales 26-10
Dustin Wilkey 26-1
CLICK THROUGH DAY TWO ACTION ON THE WATER