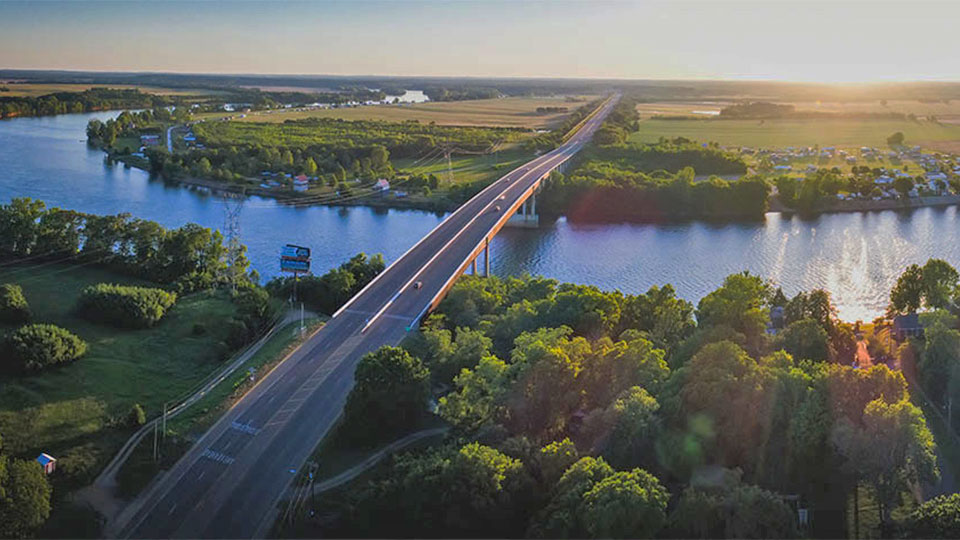 STOP #4: Pickwick Lake
Hosted by the City of Counce, Tennessee | July 15-17
By Justin Brouillard
About the Lake
Pickwick is a household name in the professional fishing world and is known for its history in bass fishing and of course, summer time ledge fishing. The reservoir is part of the Tennessee Valley Authority (TVA) and stretches from the Dam at Pickwick Landing to Wilson Dam. Roughly 67.34 mi² in size, Pickwick fishes small in the summer time as anglers tend to bunch up off shore when the ledge bite gets good. It features a main river with various creeks, backwaters and pockets where anglers can look for grass. Anglers may choose to fish close to take off or make a 50+ mile run to the north end where fishing pressure may be less. 
Anglers Take
For two-time NPFL winner John Soukup, Pickwick may seem like it fits right into his electronics wheelhouse, but that doesn't necessarily mean that he has experience with the TVA lakes, especially this time of year.
"I have no experience here. I have been the Kentucky Lake in the fall twice and that's it. I used what I learned then, which may or may not relate, to graph on Pickwick for two days before the off-limits period."
With all of his success this year, it would be safe to assume, being within a few hours of the tournament waters, this would be an event circled at the beginning of the year. With working on the business, traveling to and from events, family obligations, and maybe a fun fishing trip mixed in, the Pickwick event was one that Soukup was not necessarily looking forward to.
"I have been very busy recently and I really wasn't looking forward to it. I had a window of time to focus on it for a minute and the joy of fishing came back to me. I do like fishing offshore and I settled into the fact that ill have fun with it, and I started to get very excited. It is going to be a fun event."
Like all the NPFL events so far, what to expect before each event seems to be the same. On one hand, it "could be good," or "it is going to be tough." Soukup agrees.
"I think some quick study will tell you it could be a slug fest or a grind, and nothing in between. I lean towards its going to be tougher. We are fishing the middle of July; it's going to have had lots of pressure and the fish will be beat up more. The thing is, do you keep moving, or sit and wait for them to bite."
Chad Aaron has over 100 days on Pickwick but still isn't the closest guy in proximity. Aaron notes that due to the conditions of Kentucky Lake the last few years, the number of anglers on Pickwick has increased and its one of the most pressured lakes in the area. Aaron was able to spend some time pre-practicing on the TVA lake but local traffic made it extremely hard.
"Saturday on the lower end where we are launching is unbelievable on the weekend with boat traffic. It's not only bass guys, there are pleasure boaters everywhere – more than anything I've ever seen. It seems like all of Memphis is out there. I couldn't run over 35 MPH anywhere it was just boats and cruisers everywhere."
Aside from the yacht wakes all day, Aaron was able to sample some of Pickwick and is still not sure how the event will play out. With big numbers of bass boats on the lake, the pressure on the offshore fish may bite a few people who stick to the ledge game.
"It's definitely possible to fish shallow. I don't think you can win shallow, but you can catch some. The grass is not as much in years past but I will probably be looking to mix it up for the event. I don't think a guy can fish one or two holes a day and get them every day. I think you will need to hit 20 to 30 areas and fish everywhere."
Being a local, and dealing with the pressure, Aaron is hoping the pressure will work to his advantage. Boat traffic brings boat wakes. If you can use it to your advantage, the fish get used to it and it actually may trigger a few bites.
Another "local" Austin Dunn lives about 2-hours from the shores of Pickwick. His event isn't necessarily off to a great start, but with a quick boat change, he will be prepared.
"I went to pre-practice and lost my lower unit. I'll have to borrow a boat for our event. With so many boats on the main stuff, I looked in some other places and found a few fish. Creek channel ledges and depths that others may overlook. I don't know if I can win on that stuff but I can catch a few."
Dunn, like the others, believes the later launch time and later check in will help everyone overall. With the exception of the guys chasing the shallow bite first thing, the fish should bite better in the afternoon. 
"The later time will help the ledge guys but will kill any sort of shallow bite. If we launched at daylight and checked in at 3pm, the mayfly hatch would be golden, but now were going to miss it. The ledge deal will be much better because of the change."
Brandon Perkins has had the Pickwick event circled for a while. Aside from history on the lake, Perkins was planning on using the pressure on Pickwick to his advantage and his goal all along this season has been to compete for a win on the lake he enjoys the most. 
"These fish have been literally pounded the entire time they have been on the ledges. They get out there before most people know and there is usually a window when they bite good but by July, forget it."
Perkins has a game plan for this week and cannot wait to get out there during practice to see how the lake is setting up. Utilizing his experience, he is hoping he can locate fish that have moved off the mega schools and gathered in smaller packs.
"I think when the pressure gets to the schools, the big fish get used to it, and they are not dumb, they get away from the groups and if you can find them, they are less pressured and you have a better chance of getting bites."
Although Perkins may have an advantage in the regard, the change to the check in time is eliminating any shot at a home field advantage and will level the playing field in a big way. 
"My concern is that guys may not have many options for fish and will camp on areas waiting for the fish to fire. That could work and it might not. The later check in time will open a window where the fish should bite and guys will catch them good. Guys may not even know it but if they find themselves in the right spot, it will be game on."
The waiting game is not in the cards for Perkins. As a run and gun anglers, self-proclaimed, Perkins is willing to gamble on hitting numbers of spots versus spot sitting. One tip he would offer to anglers with no experience on the lake is do not stand-up during practice.
"I know guys will have a hard time not fishing in practice but if you fish a school, it will get seen and it will get fished hard. There are a lot of guys fishing out here and the best thing is to not make a cast in practice if you can stand it."
Running around may have its perks for Perkins but he may find himself on the outside looking in if one of the few schools is not open for business later in the day. Getting on the spot at the right time is going to be key for guys to catch their weights.
"I am not one to play bumper boats and I will not pull in on people. I'll take what is open. One last thing, the shallow bite. I'm not going to be shocked if someone was to win shallow, but it won't be me. 
Michael Brewer has been dealing with stress all season, and the Pickwick event will be no different. As a former motocross racer with several accidents, Brewer has not been comfortable all year and is hoping the event on the lake he has years of experience with is the turning point of his season, and life.
"I have been dealing with dizziness and anxiety all year, and we cannot figure out what is going on. I have been working with doctors all year to figure it out and I never expected to be dealing with this now, in July."
Struggling aside, Brewer is planning to give the event a go and will be there one way or another giving it his all. With no pre-fishing time, experience on the lake will come to play during this event when trying to navigate all of the pressure that pickwick has.
"I was down there earlier in the season and boated for a kid's tournament. The kids had 20-pounds pretty quick but the area we fished shouldn't have had fish – the lake is really behind. I think guys are going to be surprised and the lake is going to be extremely tough – these fish get beat up every single day."
As for the event, Brewer is going to try and make the offshore bite work but will fish different stuff in practice and run some history. It's going to change a whole lot since the off-limits and is setting up to be harder than everyone might think. One factor Brewer is counting on helping the field is the later check in time. With lots of the local tournaments checking in at 3, the afternoon bite will be make it or break it for lots of guys.
"The later bite is certainly going to help the offshore guys. By 2:30 pm, those guys will be running back and we'll have the rest of the afternoon to fish. The key is being at the right place at the right time." 
With lots of history with BFL's and a Toyota Series event on Pickwick, Jordan Nettles lives about 4-hours away from the tournament water. With it being one of the biggest lakes in his proximity, Nettles has spent a lot of time learning it. 
"I didn't go before cut off but I fished a lot in January and February. I think depending on the water flow and the weather, I have enough waypoints I should be able to see where they are at and adjust accordingly."
As someone who loves to fish off shore and crankbait fish, Nettles also keyed in on the later check in times as a window to make hay. As of now, planning to bounce around during the day and get a few bites, hopefully, and then be where you want to be when they fire, is key.
"In three days of practice, I should be able to find the biting window and then it's just getting on the spot you want to get on at that time. Speaking of weather, if we were to get 50% chance of rain each day, that would alleviate some added lake pressure and would help us even more."
How to Watch
Tune in daily June 15th through the 17th to thenationalprofessionalfishingleague.com to watch daily LIVE Coverage, the LIVE Leaderboard, LIVE Blog, and daily on the water photo galleries of the anglers on Pickwick Lake.
Under the Go Live Tab, choose LIVE Broadcast with links to the real-time LIVE Leaderboard with estimated weights entered by the anglers.
See the Results from Harris Chain of Lakes, here!