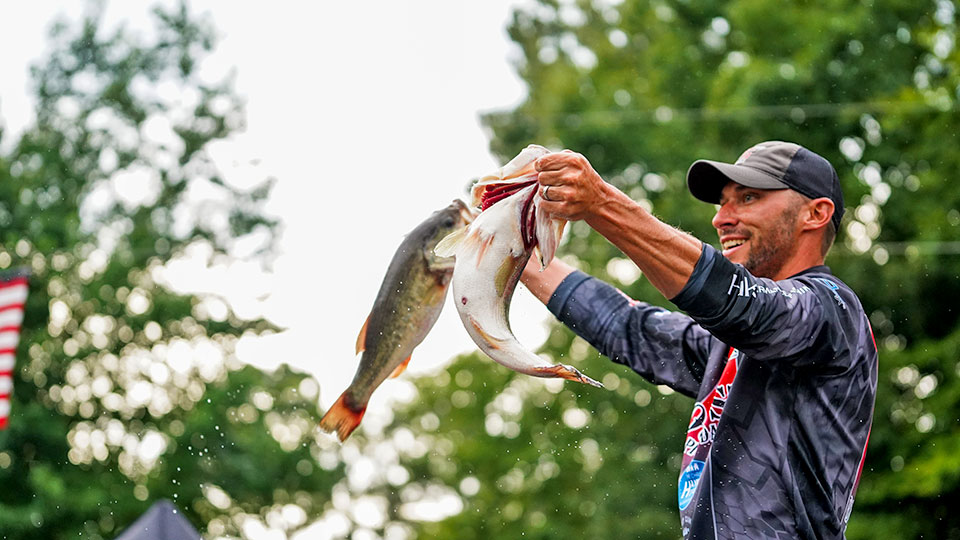 By Justin Brouillard | Photos by Tanner & Travis Lyons and Ben Kennedy
With his biggest bag of the tournament, local angler Brandon Perkins gets it done on day two with 19-pounds, 15-ounces. Perkins showed some emotion as he weighed in and has a total weight of 39-pounds, 1-ounce going into Showdown Saturday with a 7-pound, 6-ounce lead.
"Having my family at take-off and seeing all you guys out here, it's exciting. I am not usually one to get emotional but this is awesome," Perkins told the crowd of fans.
Catching them pretty steady all day long, Perkins has figured out a way to catch fish in and around other anglers. Fishing slower today, the Counce, Tennessee angler took day one to sample his schools and figure out which ones he could fish the most effectively and which ones had some bigger fish.
"I literally burned an entire tank yesterday and today I only burned 9 gallons. I slowed way down and fished less spots, but I still moved around a lot. I still did not fish a bunch of stuff either."
On Showdown Saturday, more of the same can be expected from Perkins. 
"I don't want to run as much, I don't want to camp, but I will sit and try to get them fired up. I still don't know, its Pickwick on a weekend, it's going to be crowded and I don't know what I will be able to fish or not."
Obviously, Perkins being with the Progressive AOY race, the question has to be asked.
"I am trying to do what I need to do to win this event. I want to win it. AOY was a goal obviously and I felt like going in, I had a shot if I fished my strengths, but these guys keep catching them, they are so good. I just want to win this one."
 Shawn Murphy
Fishing extremely consistent this week, with bags of 15-pounds, 10-ounces yesterday and 16-pounds, 1-ounce today, Shawn Murphy is executing flawlessly on his offshore ledges. With a two-day total of 31-pounds, 11-ounces, Murphy will go into Showdown Saturday in the 2nd place spot.
"I am fishing offshore ledges like a lot of guys and I am just fishing and trying to find new schools every day. I have two key areas where some of my bigger bites are coming from and one of the areas has not had any pressure, and one has."
Rotating between ledges in depths between 12 and 20-feet, the Nicholasville, Kentucky pro is fishing swimbaits, jigs, and crankbaits depending on how the fish are acting and noted a couple things he is doing to get his fish to bite even with other anglers rotating through.
"There are definitely some key details and techniques to help me get some bigger bites. I completely missed the afternoon bite today as a big storm blew through and blew my area out. Hopefully tomorrow I can get the afternoon bite going."
Another detail worth noting. Murphy is using forward facing sonar and gives credit to Central Kentucky Sonar.
"My Lowrance units and all the sonar is flawless. Those guys gave me the cleanest and most phenomenal sonar install."
Marc Schilling
With the tournaments largest bag, Marc Schilling followed up a day one bag of 9-pounds, 14-ounces with a 20-pound, 9-ounce bag. With a two-day total of 30-pounds, 7-ounces to finish the day in the 3rd place spot. Shilling relied on a 6-pound, 9-ounce bass to anchor his day two weight.
Joel Willert
Joel Willert added 15-pounds, 9-ounces to his day-one bag of 14-pounds, 8-ounces to go into Showdown Saturday with a total weight of 30-pounds, 1-ounce and the 4th place spot. 
Committing to offshore ledges coming into practice, Willert spent three days idling and hardly made a cast. Locating lots of schools, the Prior Lake, Minnesota angler knew the potential was there to have a good event.
"Coming into the first day, I know I had some big schools and a lot of schools overall. I have been running and gunning as I planned and have been catching them good. I had a tougher day yesterday but got things a bit more dialed today."
With an early limit, Willert was able to settle in and kept running the lake until he would find an open school. Noting that there has been pressure, Willert says he has not had any issues so far.
"I have a few areas to myself, but the ones I don't, everyone's been good so far. I am going to start on my best spot tomorrow and I saved around 15 schools that I have not looked at, and I have some shallower brush."
David Gaston
With 13-pounds, 15-ounces, David Gaston once again finds himself inside the top five with a two-day total of 29-pounds, 15-ounces. With slightly less weight than yesterday, Gaston has been consistent, but is once again a bit disappointed with the result.
"Today was worse for me, way worse, less fish and less quality. I lost more again today, a 4 and 3-pounder and both would have helped. I am around fish I just need to get to catching them.
As for the final day, Gaston is going to keep doing more of the same and keep the same mentality he has had all season long. 
"I ain't got a clue (for tomorrow). I have to get out and act like I am not even in a tournament, and I do have a few places I have saved. I can't get spun out over this, If I keep doing my job and doing what I have been doing, the AOY thing will work itself out. 
Gaston is running a mix of baits including a worm, spoon, hair jig, and a chatterbait. With the weather change supposedly coming for Showdown Saturday, the Sylacauga, Alabama angler is hoping to get back to catching them like he was this week in practice.
"Practice was phenomenal. My weights this week compared to practice are way lower. I know the rain will help the offshore grass bite for me which would help. Besides getting wet, I am looking forward to going at them."
The Rest of the Best!
6. Jesse Millsaps 29-14
7. Timmy Reams29-13
8. John Soukup 29-2
9. Bryan Smith 29-1
10. Pug Clements 27-0