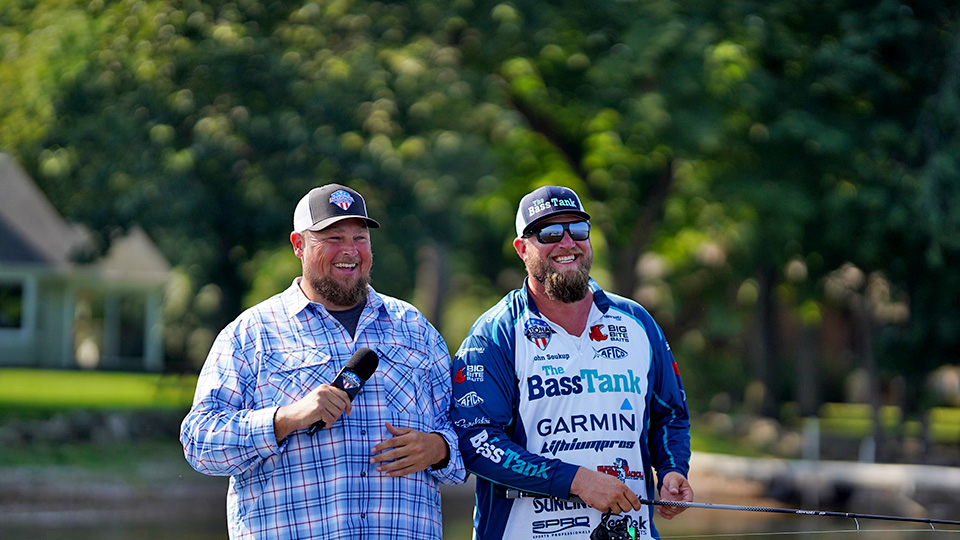 Festus, MO (February 8,2022) — The National Professional Fishing League (NPFL) announces the live crew talent and on the water personnel for the 2022 season. Returning for his second season, Luke Dunkin is joined in the NPFL Live Studio by the one and only Fat Cat Newton.
"And… WE ARE BACK! I can't wait to get the headset on and kick off season two of the NPFL. It's my dream job to get to run my mouth about bass fishing while these anglers' piece together the puzzles all over the country. Lake Cumberland is one of my favorite fisheries and I look forward to see what the pros from 'The League' bring to the table on LIVE," says Dunkin
Fat Cat Newton spent part of the inaugural season providing on the water coverage and for the last few events, moved in the studio with Dunkin. The two jived providing live coverage and the move to bring Newton to the studio full time was an easy decision.
"I'm going to miss running my lips and shaking hips out on the water this season but I'm looking forward to joining my good friend Luke Dunkin in studio to bring the viewers the most original/entertaining commentary the professional fishing world has ever witnessed," added Fat Cat Newton.
With both Dunkin and Newton holding down the studio, the on the water coverage for 2022 will be provided by none other than MLF Pro James 'Worldwide' Watson. Watson filled in at the end of the 2021 season and with Newton moving to the studio, the NPFL locked up Watson. 
"I'm excited about & appreciate my invitation from NPFL to be an on the water commentator. I love the sport of bass fishing. I hope to highlight the highs & lows that anglers deal with throughout a day of competition," said James Watson.
The 2022 National Professional kicks off the 2022 season at Lake Cumberland February 24 – 26, hosted by the City of Burnside, Kentucky.
Learn more about the NPFL, here.
About the National Professional Fishing League
The NPFL was designed to bring simplicity back to professional bass fishing. One lake, 120 anglers, and three days of fishing with the heaviest combined three-day weight winning. The full field will compete all three days with one in three anglers getting paid at each event. The goal of the NPFL is to put the anglers first and build a trail that gets back to what the founders of bass fishing intended it to be.