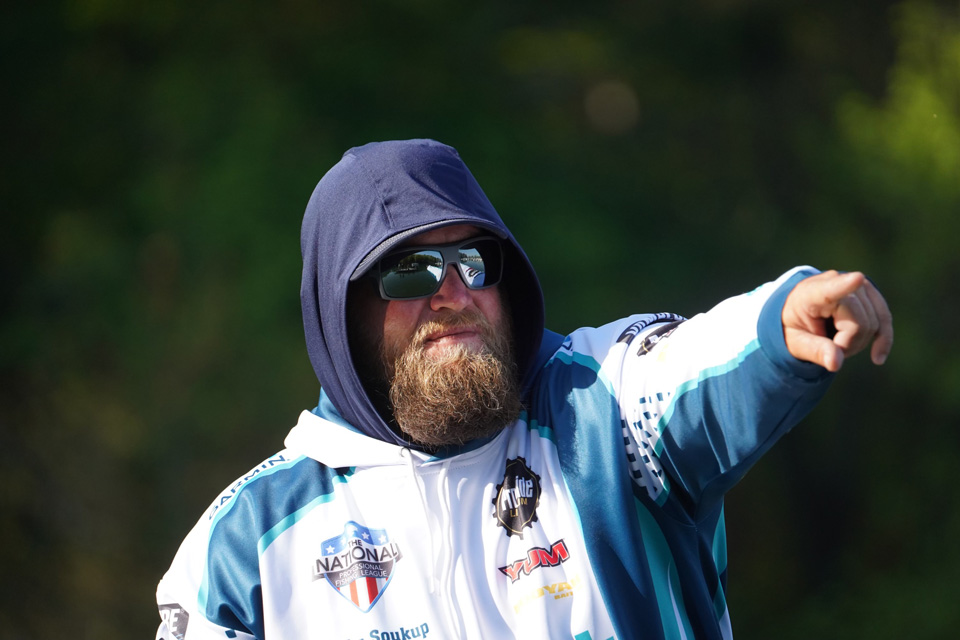 Story by Justin Brouillard | Photos by Tanner & Travis Lyons
Part way through day two, the fishing has been decent but the bigger fish are not showing up as expected. Mike Corbishley did land a 5-pound largemouth on live coverage this morning but overall, the quality is not there. With the afternoon the best time for the sight fishing guys, it is possible we will see some last-minute culls again today.
We are finally getting a good idea what our top 5 anglers are doing with LIVE coverage today and the shad spawn guys are able to get off to a faster start by catching a mix of schooling spotted and largemouth bass. We are seeing the leaders rotating between schooling fish and sight fishing with both spinning rod finesse techniques and big swimbaits in play.
The Unofficial Top 10 looks like this:
1 Brandon Perkins 12-14 30-10
2 Mike Corbishley 13-5 30-6
3 John Soukup 12-4 27-13
4 Kevin Rogers 10-12 27-8
5 Jesse Wise 15-0 26-8
6 Josh Teet 9-14 25-15
7 Bryant Smith 10-3 25-8
8 Shawn Murphy 11-3 25-7
9 Joshua McDermott 9-14 25-7
10 Justin Kimmel 8-8 14-13
The biggest of the day is caught by William Fletcher and weighs in at an unofficial 6-pounds. Mike Corbishley caught an estimated 5-pound, 2-ounce bass this morning and several fish in the 4-pound range are being caught. Catch all the action LIVE this afternoon including the LIVE Drive-thru Weigh-in starting @ 3:30 pm.
Click gallery below to check out the action