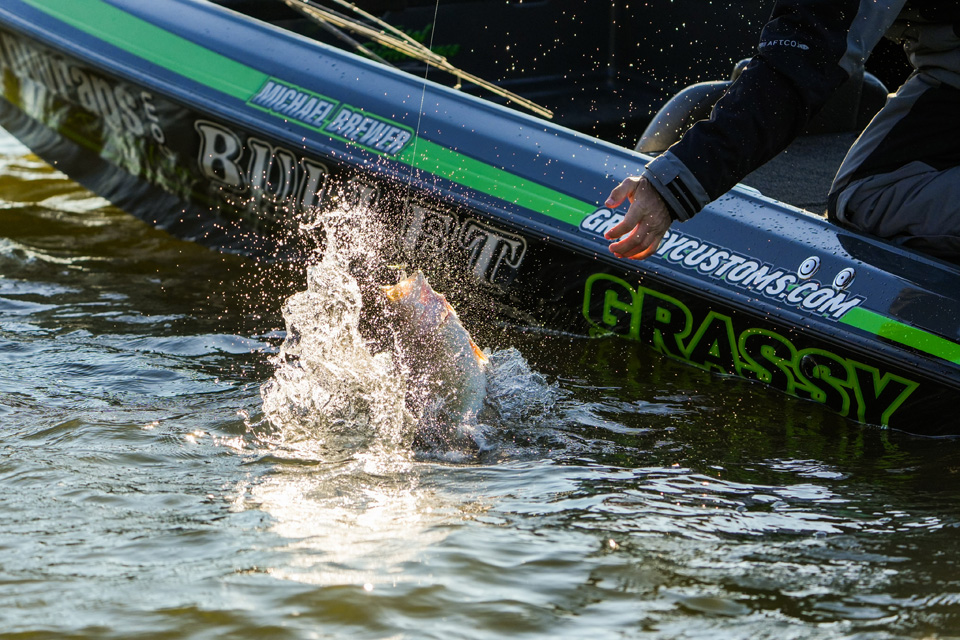 Story by Justin Brouillard | Photos by Tanner & Travis Lyons
Day one is under way and off to a great start. Local anglers Michael Brewer and Brandon Perkins have showed up at the top of the leaderboard near the midway point. With over half the field not recording a catch on the Weigh Live Tracker, there is plenty of unknowns on the overall standings.
Only four limits have been reported on the day with several anglers reporting a 5-pounder bass. The top five unofficially looks like this.
Michael Brewer 18-14
Dustin Wilkey 16-4
Brandon Perkins 14-12
Sheldon Collings 14-0
Hayden Hammond 12-14
2022 Progressive Angler of the Year winner Gary Adkins has four fish for 12-pounds, 9-ounces on the day and sits in sixth place.
What will it take?
Dustin Wilkey was fairly confident in the event taking around 60-pounds for three days to get the win, despite an up and down practice. He is off to a good start in second place, unofficially.
"Practice was up and down for me," said Wilkey. "I fished shallow and deep, and what I thought the best in between stuff was and didn't get a ton of bites each day. However, this is Pickwick and its full of big ones."
Brian Brooks had some unfortunate lucky in practice and dealt with electronics for most of the official time. With his one day of practice, he was confident in putting his head down and fishing come tournament day.
"Two hours into practice I had some boat troubles and lost power to my units," said Brooks. "It took me all day yesterday to get sorted out and I caught a few good fish on day three of practice, but I was just happy to get out there."
He estimated 16 to 19-pounds a day to get the win.
Keith Carson was also struggling throughout practice to generate any sort of pattern. Like some other, when he does get a bite, the quality fish is there.
"The fish seem to be really spread out for me as I have not found any groups," said Carson. "This is Pickwick in the spring, it will still take some good weights; I will say 62-pounds over three days."
Stephanie Hemphill-Pellerin was looking forward to fishing bluff walls which is one of her favorite ways to fish. Throughout a tough practice, the bites were there but nothing consistent.
"I never found anything consistent and I really think the event will be won at the dam," she added. "I think around 20-pounds a day. This lake produces big bags and I know it will this week as well."