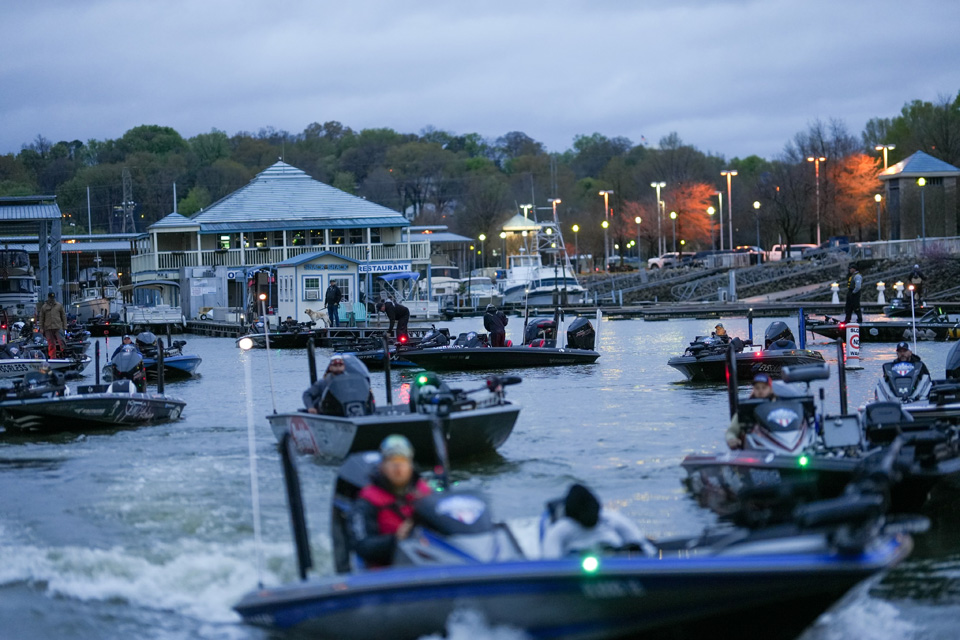 Story by Justin Brouillard | Photos by Tanner & Travis Lyons
Day two on Pickwick was tougher overall for the entire field with changing weather and higher winds. There were 16 limits on day two compared to day once with 14 limits, but the weights at the time dropped drastically. Day one leader Brandon Perkins was able to scrap it together at the last minute to finish his limit of 17-pounds, 6-ounces which was enough to extend his lead to 9-pounds.
Aside from local Michael Brewer dropping to sixth place, the anglers behind him remained in order but moved up one place. The weights dropped off from day one, however.
Tim Cales had the best day of the next bunch of anglers gathered at the top, weighing in 14-pounds, 7-ounces to move up into the second-place spot. Louis Fernandes is literally fishing "nothing special" each day and is simply covering water, looking for fresh fish to move shallow. His 13-pound, 15-ounce bag on day two was enough to move him up a spot to third.
Both Dustin Wilkey and Hayden Hammond occupy the fourth and fifth-place spots with bags over 13-pounds respectfully on day two, Hammond with a 6-pound, 2-ounce kicker.  Both anglers struggled with less numbers of fish but remain confident for day three.
Brewer had the toughest day of those anglers at the top but had the bites to remain in the second-place spot. Seen on live coverage, Brewer had some misfortune landing fish on his magical spot from day one. Once the feeding window shut off, he struggled to get bites like everyone else. Going into day three, look for Brewer to once again go to work early and take back over his spot behind Perkins.
With a 9-pound lead, even with the weather expected today, Perkins has options. He debated spending his day at the Wilson dam to catch more numbers of fish and salvage out a day without beating up his boat running to Counce. On the other hand, he has some of his best spots at the other end of the lake that have yet to be fished.
"I probably won't make a decision until I see how the weather is tomorrow morning," said Perkins after day two. "I could run all the way to Counce and zero, or run there and catch them but not make it back due to the high winds," he added.
The rest of the top ten remains tight, with Jesse Wise in seventh place with 28-pounds, 10-ounces and Mike Corbishley in tenth with 27-pounds, 9-ounces.
Watch Live Coverage beginning at 8 AM (CT), here!
How to Watch
Tune in daily March 15 through 17 to watch daily action from Florence, AL, with Live Coverage here and on the FREE PHYX TV App beginning on Wednesday. 
Check out the overall results, here!
Follow along and watch the daily LIVE Leaderboard, LIVE Blog, and on the water photo galleries and blogs of the anglers on Pickwick Lake.
Under the Go Live Tab, choose LIVE Broadcast or check out the real-time leaderboard on the Weigh Live Tracker with estimated weights entered by the anglers on the water and join us for the LIVE Weigh-ins, here!
And be sure to follow us on Instagram, Facebook, YouTube, & Twitter!