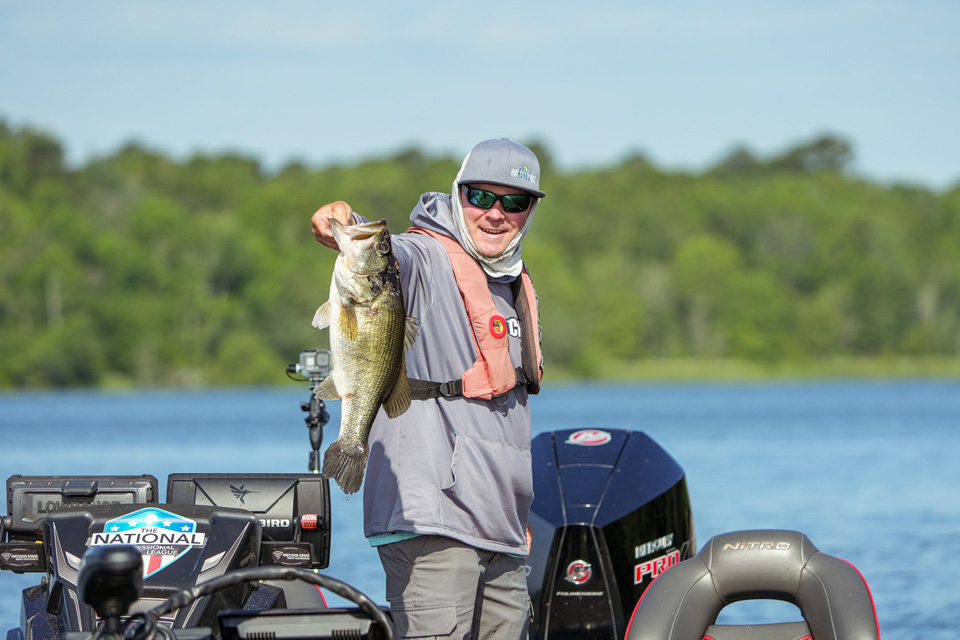 Story by Justin Brouillard | Photos by Tanner & Travis Lyons
What was reported as a tough event ahead on Santee Cooper Lakes is at least looking like the NPFL anglers have figured out something on day one. A potential top-heavy leaderboard with weights drastically falling off was expected and that could still play out this week. So far, limits have been hard to come by but six are being reported, with quality bass biting. 
With some familiar names at the top, it has been Tim Cales and Will Harkins at this point in the morning. Cales is reporting 17.5 pounds while Harkins is in the mid-16-pound range. Check out the top anglers so far on the unofficial weigh live tracker. 
Florida angler John Cox jumped into the early lead with over 14 pounds but now sits in fifth place behind the leaders, with Dan Blackert and Todd Goade in third and fourth. Looking down through the unofficial standings, several anglers are sitting short of a limit but have reported a 5-pound bass or heavier. Filling limits and catching one each day will go a long way with every angler fishing all three days of the event.
The top ten look like this: 
Tim Cales 17-8
Will Harkin 16-6
Dan Blackert 15-5
Todd Goade 14-0
John Cox 14-0
Randy Sullivan 12-12
Nick Brown 12-5
Josh Watkins 11-2
Marc Schilling 11-0
Keith Carson 10-6
A word from on-the-water photographers is that the leaders are targeting shallow cover with wacky rigs, flipping docks, and even a dropshot being used on isolated stumps. Bonus Live Coverage this week features Wright Patman Champion Ryan Satterfield, 2022 Progressive Angler of the Year Gary Adkins, and local angler Patrick Walters.
Check out the Live Broadcast until 1 PM EST as well as the Live Weigh-In at 3 PM EST from Santee Cooper Lakes. 
Follow along on the Weigh Live Tracker for real-time unofficial updates from the water. 
Check out the Day One Morning Story and Launch Photo Gallery.
Morning action On Day One