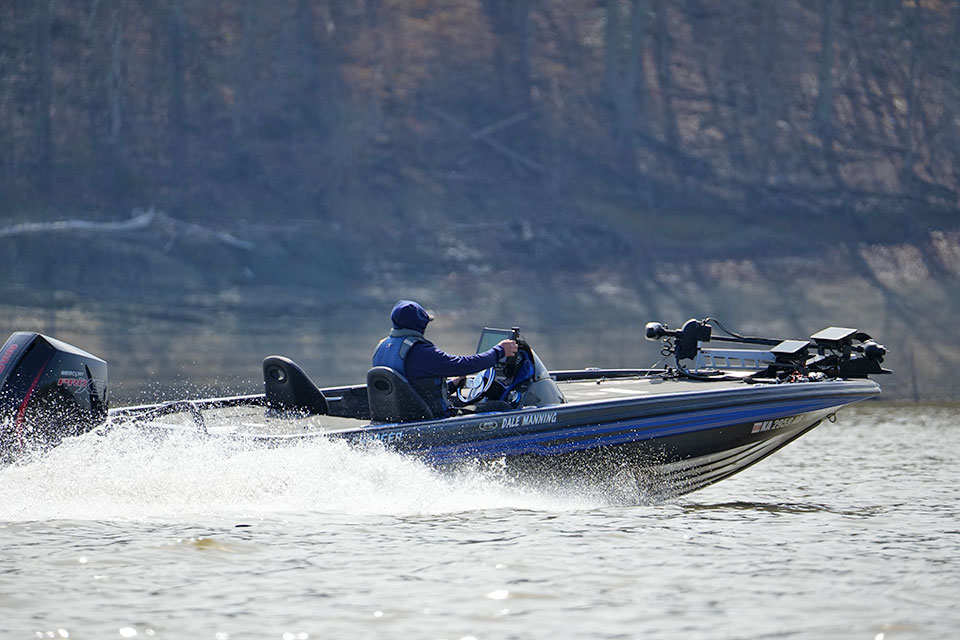 BURNSIDE, KY. – The National Professional Fishing League kicks off the 2022 season February 24 – 26th at Lake Cumberland. The event is hosted by the City of Burnside, Kentucky and anglers and their families kick off the season with cold temperatures and persistent rains. With water temperatures in the mid 40's, overcast skies and rain showers for days one and two make way for partly sunny colder temperatures for championship Saturday. Multiple patterns and three different species of bass will make for a fun start to the new season.
About the Lake
Located in the South-Central Kentucky, Lake Cumberland is 101 miles long, over one mile wide at its widest point and is one of the largest man-made lakes in the nation. As a flood control, hydroelectric power generating reservoir, Cumberland covered over 102 mi² with 1,255 miles of shoreline for anglers to fish. Look for all three species of bass to be caught this week with smallmouth, largemouth and spotted bass all with healthy populations.
Anglers Take
Knowing the lake well is one thing, but how about buying a home on the lake and winning a Toyota Championship on the tournament waters recently? Chris Malone, has accomplished all three. Although the water temperatures are like when he got the big win, back then it was getting colder, and now it's getting warmer – those changes are certainly going to affect the bite. 
"The water level and temperatures are like what it was back in 2020 when I won that championship but were getting into spring now and it was moving towards winter then. That alone will affect how things play out down here this week but it's still going to be a semi-wintertime bite – unless we get a big flood. I like fishing the deeper stuff and it looks like it's going to be a decent event."
Malone is planning to sample a variety of Cumberland during the official practice period and anticipates a mixed bag will get the win this week come Saturday. The need to have to fish for and catch all three bass species is going to make it tough on the anglers, but without the 18" size limit variance for smallmouth, it's just not plausible to catch a limit of keepers every day.
"I think you are going to need two or three spotted bass or largemouth every day to go with some keeper smallmouth. Each of the species sets up better/differently all over the lake. Smallmouth will be mainly on the main lake, largemouth will be in the last 1/3 up the creeks, and the spotted bass will be everywhere. You have to figure out how to catch keepers of all three, and that won't be easy."
Malone notes it isn't impossible but is highly unlikely anyone can manage a five fish limit every day of 18" smallmouth. Especially without the use of an Alabama Rig (A-rig), catching keepers will prove challenging. 
"The A-Rig would have helped out a lot and the 18" variance would have changed the whole event. I have a lot of history here where the big fish live but another challenge is, my tournament partner is also fishing this event. I think I can get some smallmouth to bite, but one big key will be unlocking largemouth in the 2.5 to 3-pound range."
Another angler with substantial time on the lake is Andrew Luxton. Luxton is making his appearance on the NPFL trail and there is no better place to start the season off than a body of water that is comfortable for the angler. The Richmond, Kentucky angler understands that multiple day events are tough in general, but even more so with a stingy Cumberland. 
"We have a lot of weird weather going on – it is going to rain some and we have some warm weather coming in and it could play into not so bad of an event. However, this lake can be as tough as anywhere to stay on fish for multiple day events. It reminds me a little of Beaver Lake, which can be difficult at times. The key is to adjust and change, and hope the stars align to have it work out."
Luxton notes, like Malone, the weights will change every day with the possibility of an 18-pound plus bag one day and then less than half the next day. With fish spending so much time on the move at Cumberland, which is typical for a highland reservoir, the weather will likely dictate the direction of the tournament.
"It looks like some rain and nasty weather on Thursday and Friday. It will be miserable, but the fish will bite. If we end up with blue bird skies the weights will drop significantly."
Luxton believes a mix bag will win this week on Cumberland but is still temped by the heavier smallmouth. Knowing that the 18" bite is few and far between, even without a limit, the brown fish will weigh heavier than a mixed limit of spotted and largemouth bass.
"Whoever wins will find a good mix of places that has a small limit, a couple keeper smallmouth some largemouth nearby. I may be one that commits to smallmouth, I am not decided yet. It takes all day to get the 5-7 bites that even matter but 18" fish are difficult."
Adam Savage knows Cumberland well, and like Luxon, thinks someone could jump out to a big lead one day with a limit of smallmouth but backing it up the next day probably will not happen. Savage adds that the water temperature is not ideal for setting up the fish where he would like them with temps around the mid-40's.
"This is going to be one of those grind events, and I think the final weights will show it. If someone can come in with one or two good largemouth or smallmouth it will go a long way and I just don't think the fish are going to be set up to make it very easy."
Focusing on main lake, winter/pre-spawn areas, Savage is hoping to get off to a start before focusing more on creeks to finish a limit of largemouth bass. The other big kicker Savage noted was the presence of floating log jams due to recent and incoming rains.
"Those creeks have fresh incoming water that the fish like and I spent time in practice fishing smart and breaking up the lake. The worst thing would be to have fish at the other end of the lake and run into log jams and such – that will cut into your fishing time."
What will the winner be doing all three days to pull it off? 
"Covering water with moving baits."
#
Follow all the action on our Weigh LIVE Tracker starting with Thursday's launch and LIVE Water-to-Stage Coverage Friday and Saturday