STOP SIX: Grand Lake, Grove, OK
DATES: Sep 30 – Oct 2, 2021
Presented by Omega Custom Tackle
LIVE COVERAGE: All times are Central Standard Time
Daily @ LIVE BROADCAST
TH & FR | 8-2 pm
SA | 8-1 pm
TAKEOFFS:
Daily takeoffs @ Wolf Creek Ramp, Grove, OK | 7:00 am — TH-SA | DIRECTIONS
WEIGH-INS
Weigh-ins @ Wolf Creek Ramp, Grove, OK | 3:30 pm CST @ LIVE STREAMING WEIGH-IN
HOST LOCATION: Wolf Creek Ramp, 963 16th St, Grove, OK 74344 | Directions
HOST HOTEL: Days Inn Grove OK 
EVENT HOST: Grove Convention and Tourism Bureau
Visit City of Grove for more.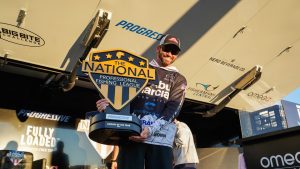 The Progressive AOY race is not a sprint. It's a season-long marathon that Keith Carson won.
Read More »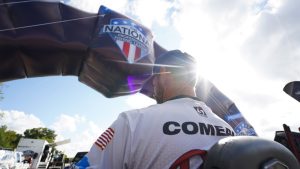 Join the NPFL Pros on Stage for the final weigh-in on Showdown Saturday.
Read More »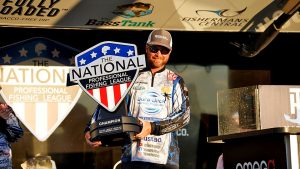 Taylor Watkins rallies on Day 3 for the win while Keith Carson takes home AOY Gold.
Read More »