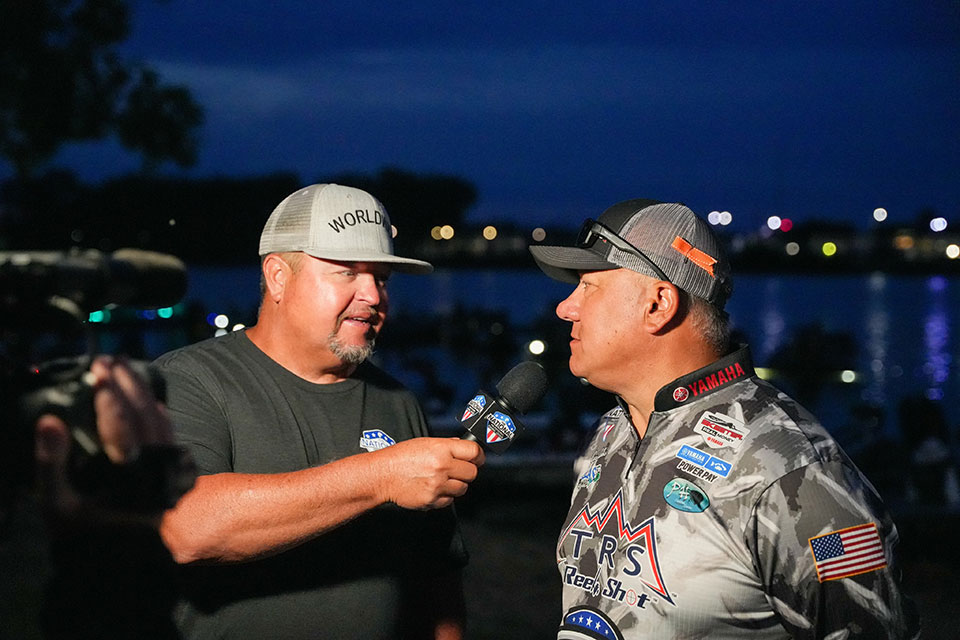 Story by Justin Brouillard | Photos by Tanner & Travis Lyons
Can Adkins Get It Done with Smallmouth?
While much of the field punted on day two, Gary Adkins opted to make the long run North to catch smallmouth bass and thus far, it has paid off. The problem with his plan is that too many anglers are fishing shallow and too many largemouth are biting on Saginaw Bay.
Adkins maintains a 6-ounce lead with one day left and is once again planning the trip to catch smallmouth. The Great Lakes expert is looking at another bumpy ride this morning with 15 to 20-knots expected, calming to 5 to 10 in the afternoon. Adkins has fished his area both days and reported to have not had his fish setting up on shoals where they are able to be caught. He is hopeful they get into position for him on the final day.
The rest of the top five anglers are bringing largemouth to the scales aside from day one leader Tim Wilson. The largemouth anglers have been getting 25 or more keeper bites a day with some reportedly getting more than 60. Weeding through small bass has been key to catching top five weights.
The top five anglers are enjoying a long day and for those fishing smallmouth, it could be an advantage with winds dying off later in the afternoon. Adkins is committed to his run while Tim Wilson may sample his smallmouth once again depending on the ability to work his way north and fish.
Top Ten Anglers:
1st Gardy Adkins 35-6
2nd Buck Mallory 35-0
3rd Kevin Martin 33-13
4th John Soukup 33-13
5th Tim Wilson 33-7
6th Randy Kukral 33-3
7th Keith Carson 33-2
8th Landon Tucker 33-0
9th Timothy Reams 31-10
10th John Cox 31-8
How to Watch
Tune in to thenationalprofessionalfishingleague.com to watch the final day action from Saginaw Bay, with Live Coverage running from 8am to 2pm.
Follow along and watch the daily LIVE Leaderboard, LIVE Blog, on the water photo galleries and blogs of the anglers on Saginaw Bay!
Under the Go Live Tab, choose LIVE Broadcast with links to the real-time Weigh Live Tracker with estimated weights entered by the anglers.
Check out the LIVE Weigh-ins, here!
See the Results from Day Two, here!