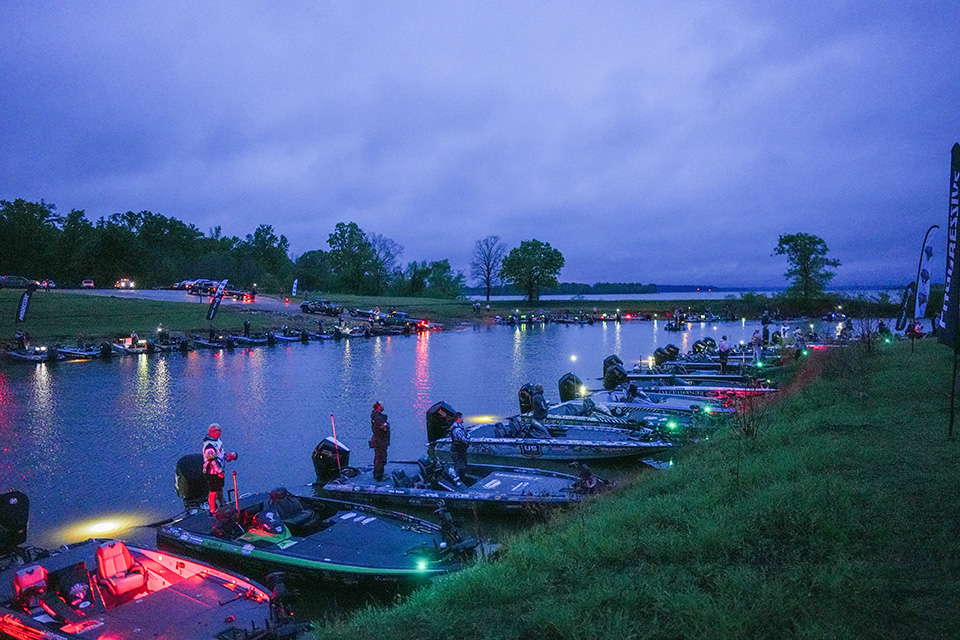 Story by Justin Brouillard | Photos by Tanner & Travis Lyons
Day one on Wright Patman was on par with angler expectations from practice but the big fish were willing to bite. Throughout the first day, the Weigh Live Tracker was lighting up with several fish over 6 pounds and many more 5-pounders. However, the overall weights are down from 2021 for day one.
Leader Timmy Reams is actually not far off the pace to match Keith Carson's winning weight of over 67 pounds, but as we have seen with smaller bodies of water through multiple-day events, the pressure catches up and the weights drop significantly.
Reams discovered in practice that his bigger bites overall were coming in the afternoon and decided to forgo his best areas until the afternoon and was able to get to work quickly once he settled in. Reams is essentially practicing in the morning, like others, and trying to find new places as the pressure affects the bite.
Fourth-place angler Louis Fernandes recognized the coming pressure and gambled on day one leaving his best areas alone in hope of duplicating his program elsewhere. He "junk" fished in several new areas expanding on practice, and caught a solid limit to start with over 18 pounds. Fernandes noted his efforts produced another key area that he hopes to utilize today, saving his best stuff for Saturday.
The top ten to begin day two:
Timmy Reams 22-3
Sheldon Collings 20-7
Brad Staley 18-5
Louis Fernandes 18-4
Nick Brown 18-1
Marc Schilling 17-15
Brian Hatfield 17-12
Barron Adams 17-8
Quentin Cappo 17-2
Todd Goade 17-1
Anglers can expect a cloudy start to the day this morning and winds less than 10 mph, with the sun working its way into the mix by the midday point and increasing winds. Many anglers were needing the sun to help their bites and it looks like the afternoon may be that time.
How to Watch 
Tune in today and tomorrow to watch daily action from Wright Patman, with Live Coverage here and on the FREE PHYX TV App from 8 AM to 1 PM.   
Follow along and watch the daily LIVE Leaderboard, LIVE Blog, and on-the-water photo galleries and blogs of the anglers on Wright Patman.
Under the Go Live Tab, choose LIVE Broadcast or check out the real-time leaderboard on the Weigh Live Tracker with estimated weights entered by the anglers on the water and join us for the LIVE Weigh-ins.