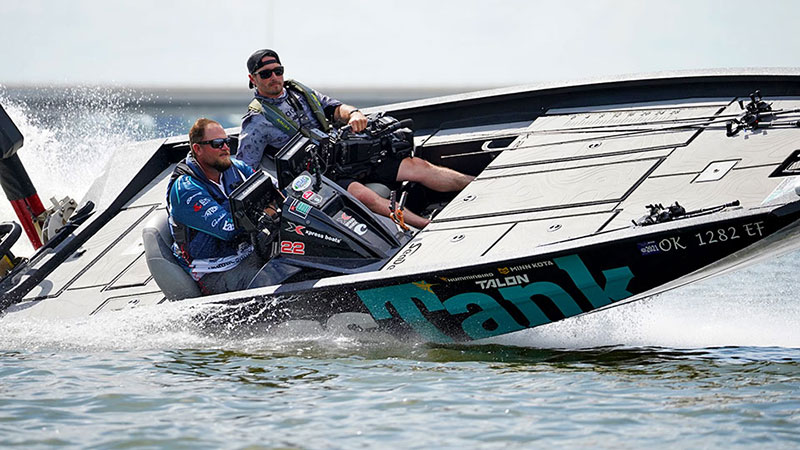 Just beyond the midpoint of the inaugural Nation Professional Fishing League season, there is a lot to look back at. After four successful events – Lake Eufaula, Wright-Patman, Harris Chain of Lakes and the recent Pickwick Lake – the NPFL has had its first ever champion and the first repeat champion in just a short time. Not only are there several firsts of many, the Progressive Angler of the Year standings is tight, and the final few tournaments will determine much more than just the championship qualifiers.

David Gaston
The most consistent of all the anglers, with a 20-point lead with two qualifying events remaining, Alabama's David Gaston holds the inaugural Progressive AOY lead. Before Pickwick, Gaston was in 5th overall and another top five vaulted him to the top of list. Seemingly catching them at every stop, Gaston has to be a favorite due to his style of fishing and the consistency shown thus far.
Gaston has finished 2nd, 11th, 6th and 2nd for an average finish of 5th place. Against this field, at times of the year when lakes are not peak, that is impressive. Gastons approach is simple, find fish that he can catch in practice and expand on it during the tournament. The plan seems to be working but Gaston notes that he is focused on his plan and executing it every event.

"I would have been shocked if you told me I would be where I am this late in the season. I don't really focus on the AOY – I have to focus on catching fish and getting paid. The NPFL was new and I wanted to try something new." 
After competing on the FLW Tour and other various trails for years, Gaston noted that regardless, you are fishing to win money, and the NPFL is no different. 
"It doesn't matter if you are fishing the elites, the tour, there are entry fees and money to be won. It's impossible to plan it out ahead of time and predict how any event will go, let alone season. I don't try and call my shots. I have never really known what fish I am on after practice and I try and go into every event the same way."
Not wanting to have the pressure of going into an event needing to cash a check for his livelihood, Gaston has a plan and is riding it to the Progressive AOY lead with two events remaining. With a little pre practice time in Wisconsin, and some upper-level experience on Grand Lake, Gaston has to maintain his focus and "catch my 5 fish a day."

Nick Prvonozac
Nick Prvonozac held the lead at the midway point and is also having himself a season. After slipping slightly, cashing a check in 30th place at Pickwick, Prvonozaz fell to 2nd place in the AOY but remains in striking distance to Gaston. With $68,000 in earnings without winning an event.
"When I got to Pickwick, I wanted to win. If you win, nobody can catch you. I knew the ledges would win but after some bad luck early in the official practice period, and locating some quality fish elsewhere, I decided to scratch the ledges and fish shallow."
Prvonozac's elsewhere was spring creek. After a lot of bites early in the week in that area, and ten of his favorite ledge areas being loaded with boats, he dedicated half of the final day to learning it more and with 18-pounds to show for it, a game plan was established.
"It totally changed on me in two days and I tried to salvage it rather than playing on the ledges. We had overcast conditions and rain in practice and sun during the event and the fish were in a bad mood. I knew I had to salvage to get a check and ended up fish marina docks to get a limit the last 2 days."
Like Gaston, Prvonozac is not too worried about the points and wants to win the last two events. Knowing it's going to be a battle to make up some lost ground at Winnebago, Prvonozac knows the weights will be tight and one pound will be several places in the standings which gives him hope of making a comeback. 
"The nature of your career is to win; nobody remembers a second-place finish. Obviously AOY would be huge but if I win, that will follow. I am always looking to win but I was hoping Winnebago would give me a northern advantage but after pre-practice, it's going to cater to a lot of anglers. When we get to Grand Lake, I have some history. I won a Costa there in 2017 but it was in April. I have never been there in the fall but I know the lake."

Brandon Perkins
Coming off a big win at his home body of water, Brandon Perkins slept in his own bed at Pickwick Lake for stop number four. Before the event, Perkins had a plan and was going to spend the entire practice period on his graph locating schools of bass on the ledges. With over 45 schools located, Perkins was the most consistent angler all week and took home a cool $50,000 for his efforts. With $80,000 in total earnings on the season, Perkins finds himself within striking distance of the AOY title with two events remaining.
Having fished the Forest Wood Cup and several Costa/Toyota Series events, Perkins knows he can fish and handle a multi-day event. Admitting to fishing the Forest Wood Cup to win, Perkins fished as he had nothing to lose, and although it didn't go well, he stuck to his guns and fished like he was confident doing. The NPFL is no different, and Perkins has at least tried to remain focused and fish how he likes to fish regardless of where the season has brought him.
"At the beginning of the season, I just wanted to fish my strengths. I knew I could fish with these guys, but I have never had a ton of pressure on me for anything, especially six professional events and one being on my home water. The NPFL being new, and fishing lakes all over the country at different times, I just wanted to do good, try and cash checks, and when we got to Pickwick, at least contend for a win."
Knowing guys would catch them at every event, and confident in his abilities, the season hasn't gone as well as Perkins has hoped. Will he change his approach to these last two events, or keep on fishing how he has thus far?
"I am not going to do anything different but I have the confidence and mindset that I belong here and I can at least compete. If I can get a check at every event, it would be solid. It won't be enough to win the AOY, but it will make the no entry fee championship."
Looking for big fish only has been the mentality for Perkins and in most cases, the lakes have allowed for it so far. Struggling with that in the past, Perkins has executed extremely well this season and one of the final events has his attention.
"I look for big fish only and try not to worry about getting a limit. If I can catch fish of tournament quality, the limit will take care of itself. I have had some issues with it in the past because it is 100% a mind game. I think Grand Lake will be a tough tournament and I will fish to get five fish there because a limit a day will do very well. I just have to be confident, trust myself, and make good decisions – that's the hardest thing."

Keith Carson
Another name to add to the list, Florida's Keith Carson is 4th overall for the season. Carson has earned a cool $89,000 for his efforts and took the title at Wright-Patman. After finishing 13th to start the season on Eufaula, Carson won in Texas and followed it up with a 3rd place in Florida on the Harris Chain. Like the other leaders, Carson slipped a bit at Pickwick and finished the event in 29th place, still cashing a check. Just 25 points behind the leader Gaston, a lot can happen with two events remaining. 
"Going forwards, I am going to keep doing my thing, fishing how I am comfortable, trying to cash checks, and hopefully qualify for the Championship. That is no entry fee, last place makes money, and if you get top ten, it's a solid paycheck."
Recognizing he is 25 points back from leader David Gaston, Carson knows he has his work cut out if he were to win AOY. He would need Gaston to stumble and he would have to have a solid event.
"I think I am going to fish a bit more conservative and try to get checks. I may not win AOY but I want to secure a championship birth. If I were to go wide open and swing, I could easily bomb and knock myself out of that championship. I am aware that I am going to be able to fish shallow which is my strengths – frogging, duck weed, and lily pads – and if things line up and I feel comfortable, I am going to attack it full speed

John Soukup
After winning the first event in Alabama, John Soukup followed up with a top ten in Texas and won at the third stop to became the first ever repeat champion, and first angler to reach the $100,000 earnings milestone. With three phenomenal events under his belt, Soukup proved he is here to play and showcased just how versatile he can be. Wrapping up at Pickwick in 31st place, Soukup dropped slightly in points but is only 27 points back of Gaston. Soukup is the highest grossing angler thus far bringing in $119,000 in total earnings.
"My approach has been to catch a limit every day of every event, to get a limit three days in a row. With changing conditions, all the elements we face, you have to find numbers of fish."
Spending the official practice period hunting for a pile of fish, not beating them up, and using his understanding of fishing to be around fish has guided Soukup to the 5th place spot in points. Soukup has maintained his plan flawlessly but has noted some slight changes have been made.
"I get dialed into my areas during the tournament and focus then on catching bigger fish. I was fishing for a check, 36th spot, but now, my mind set after how things have gone, my expectation is to practice for a top 10 finish, no a check. I can set my pride aside and if I find out I am not dialed, I stay focused and push ahead."