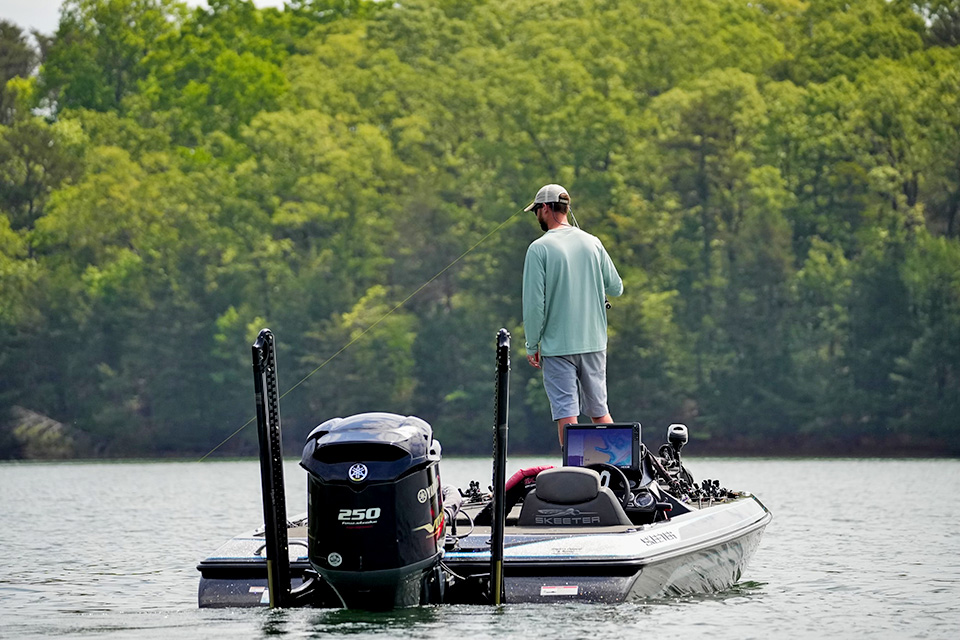 Story by Justin Brouillard | Photos by Tanner & Travis Lyons
With three of the six events now behind us, the NPFL heads North for two Great Lakes events before finishing off the season at the Kissimmee Chain of Lakes in Kissimmee, Florida. Just a few weeks after Watts Bar where Pro Patrick Walters took his first NPFL win, the anglers are looking forward to some Northern waters which has not been on the NPFL schedule until now.
Something else not yet talked about is the Progressive Anglers of the Year Race. At the half way point of the season, with just three events remaining, it's time to dive into the current standings and look ahead to what may transpire throughout the next couple events.
Earning a total of $30,000 this season, average $10,000 per event, Timmy Reams is in the driver's seat at the half way point of the season. With 709 total points, he holds a 4-point lead over Kevin Rogers and 9 points over 3rd place Sheldon Collings with 700 points total. 
Reams started the season with a 16th place finish on Lake Cumberland, then a 15th place finish at Lake Hartwell, and finally a 13th place at Watts Bar. 
Kevin Rogers finished up 12th at Cumberland, 14th at Hartwell and 22nd at Watts Bar and has earned $29,000 on the season thus far.
Sheldon Collings finished 11th at Cumberland, 40th at Hartwell claiming the last check, and a 2nd place finish at Watts Bar behind winner Patrick Walters. Collings has earned the most money of anyone in the top ten with $38,000 total thanks to a $20,000 check at Watts Barr.
Ryan Davidson has also had a good season and site just 2 points back of Collings in the 4th place spot. He started the season with a 7th at Lake Cumberland, a 20th at Hartwell, and a 28th place finish at Watts Bar. Davidson has earned a nice check at every event.
No stranger to the top of the Progressive AOY standings, Bryant Smith is in a great position going into the second half of the season. He started the season off slow at Lake Cumberland with a 47th place and missing a check, and has completely turned his season around with a 4th place finish at Hartwell and a 7th place at Watts Barr. Smith is one to watch for the rest of this season after being near the top in 2021.
One thing to notice is consistency at the top with all of the anglers in the top ten having collected a check and consistently finishing in that check range at every event. Cumberland Lake Winner Taylor Watkins sits in the 13th spot in AOY while Hartwell Champion Drew Six is in the 66th spot. Watts Bar winner Patrick Walters, who missed Cumberland, sits in 25th despite only fishing in two tournaments and has earned a cool $70,000 on the season. 
The Top 10 in Progressive AOY looks like this after three events:
Timmy Reams 709 $30,000
Kevin Rogers 705 $38,000
Sheldon Collings 700 $38,000
Ryan Davidson 698 $32,000
Bryant Smith 695 $27,500
Eddie Carper 693 $28,000
Gary Adkins 693 $28,000
Logan Millsaps 693 $29,000
Todd Goade 691 $25,500
Shawn Murphy 690 $29,000