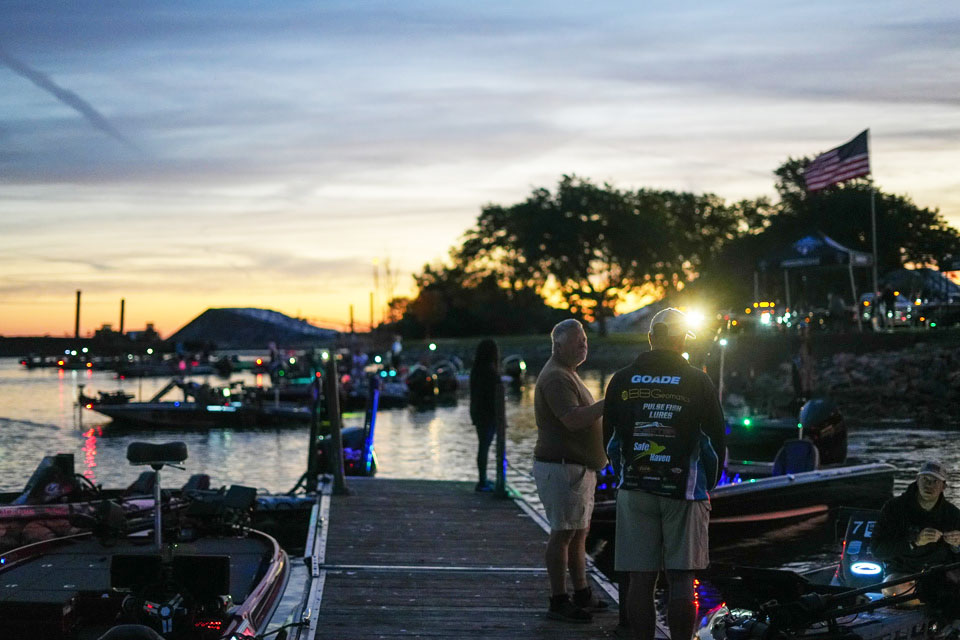 Story by Justin Brouillard | Photos by Tanner & Travis Lyons
Sandusky, OH – Lake Erie showed out for day one of the NPFL at Sandusky Bay but it wasn't without sacrifice. Plenty of boats were left to be fixed before day two of competition begins this morning, including the top two anglers – Scott Siller with a giant bag of 16-pounds, 1-ounce and Brandon Perkins with his 22-pound, 1-ounce bag. Both anglers made long runs to catch their weights.
Siller was waiting for a marina to locate a part while Perkins was dealing with battery issues. Both anglers relied on other anglers to bring their fish to scales on day one and hopefully are able to get back after it this morning. 
It was clear that smallmouth would dominate all along. Part of the field targeted largemouth and maximized fishing time but the weights simply could not keep up with the quality of smallmouth – the weights are stacked at the top. 10th place angler Louis Fernandes brought 20-pounds to the scales while 20th place was a hair under 19-pounds. Ounces are super important and fish care with dead fish penalties are costly.
The top ten, for the most part, are targeting offshore hard cover and locating bass on forward facing sonar. With a mild day one, the winds are expected to change and anglers will have to adapt to conditions and increased run times. With some anglers running as far as 2.5-hours, those higher winds will be a factor.
The AOY
The leader coming into the event had less than a stellar day one but is hanging within striking distance to making a comeback. Timmy Reams dealt with several setbacks but managed to bring 14-pounds, 12-ounces to stay close. Reams started his morning by forgetting his boat keys at the house, and after making the run to his fishing area, he hooked himself past the barb. His forward-facing sonar quit around midday but he was able to overcome those issues and put together a limit. With the NPFL being a three-day event for all anglers, look for Reams to make a comeback this afternoon. More to come on the Progressive AOY Race.
Top 10 Anglers:
Scott Siller 26-1
Brandon Perkins 22-1
Dan Blackert 22-0
Danny Weems 21-9
Stu Martel 21-6
Blake Felix 21-4
Keith Carson 20-13
Michael Yoder 20-10
Sheldon Collings 20-8
Louis Fernandes 20-0
How to Watch
Tune in daily September 1st through September 3rd to thenationalprofessionalfishingleague.com to watch daily action from Sandusky, with Live Coverage beginning on Thursday. 
Follow along and watch the daily LIVE Leaderboard, LIVE Blog, and on the water photo galleries and blogs of the anglers on Lake Erie!
Under the Go Live Tab, choose LIVE Broadcast with links to the real-time LIVE Leaderboard with estimated weights entered by the anglers.
Check out the LIVE Weigh-ins, here!