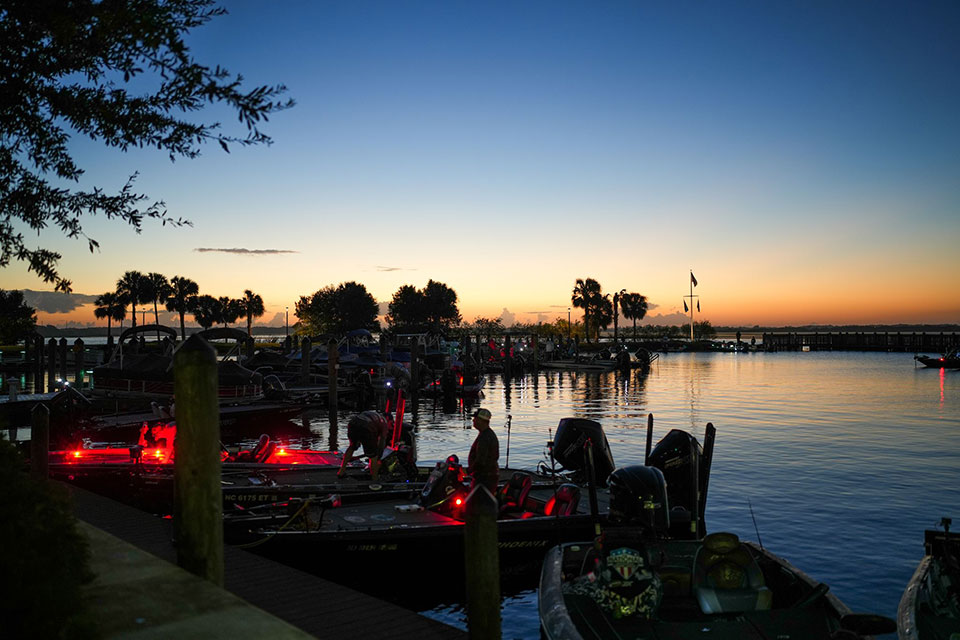 Story by Justin Brouillard | Photos by Tanner & Travis Lyons
Kissimmee, FL. – On day one of the finale of the 2022 NPFL Season, Michigan angler Ron Johnson set the tone with a 26-pound, 3-ounce bag to grab the day one lead. Johnson, sharing water with 2nd place angler Taylor Watkins, was able to bring an almost 8-pounder to the scales to anchor his bag. Watkins, who took the win at Lake Cumberland earlier in the season is just 2-pounds, 7-ounces behind going into day two. Another NPFL Champion, Patrick Walters sits behind Wakins in the 3rd place spot with 21-pounds even, giving him an ounce cushion over both Michael Catt and Trent Palmer, tied for 5th.
Coming into the event, anglers predicted a slightly less average weight to win the event, but mentioned that in typically Florida fashion, the leaderboard would work itself out on day two and three. Six anglers cracked the 20-pound mark with four more catching more than 19-pounds. Local Keith Carson sits in 15th with 17-11 and with one big bite today, could make a move.
Weather Watch
Many anglers mentioned if the areas they are fishing had any current moving, it turned on the bite. Day one saw windier conditions than anglers faced in practice and the weather was hot. On day two, the conditions are expected to be somewhat similar but the key will be any wind. Some anglers noted they were fishing around current breaks, while some mentioned they had lake wind to help fire up the fish.  We will see how the conditions affect the anglers on Kissimmee today on Live Coverage beginning at 8AM Eastern.
Top 10:
Ron Johnson 26-3
Taylor Watkins 23-12
Patrick Walters 21-0
Michael Catt 20-15
Trent Palmer 20-15
Jake Boomer 20-12
Darrell Davis 19-12
Bryant Smith 19-7
Dan Blackert 19-0
Taylor Umland 19-0
Progressive AOY Update
Coming into the event, Gary Adkins held a 14-point lead on Timmy Reams. With Adkins sitting in 21st place, and Reams behind him, the lead widens a bit. Adkins held a 43-point lead over Taylor Watkins coming in and Watkins sits in 2nd place in the event, knowing his only chance at AOY would be to win the event and let the chips fall. At this point, Adkins still holds an unofficial lead by around 20 points.
Logan Millsaps struggled a bit on day one but has two more days to catch some fish and move up in the event to keep his top five AOY standings. John Soukup sits in 13th over in the tournament and began in the 5th place spot for AOY. His consistent event will keep him in the top five as day two begins.
How to Watch
Tune in daily November 4th and 5th to thenationalprofessionalfishingleague.com to watch day two and three from Kissimmee, Florida, with Live Coverage beginning on this morning.
Follow along and watch the daily LIVE Leaderboard, LIVE Blog, and on the water photo galleries and blogs of the anglers on the Kissimmee Chain!
Under the Go Live Tab, choose LIVE Broadcast with links to the real-time LIVE Leaderboard with estimated weights entered by the anglers.
Check out the LIVE Weigh-ins, here!
See the Results from Day One, here!
Check out the Progressive Angler of the Year standings, here!